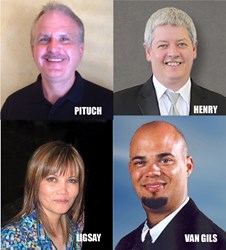 Our strength as an organization is rooted in the leadership of our people.
San Diego, CA (PRWEB) October 12, 2013
Kieran Label Corp (KLC) continues to build its senior leadership team. KLC is one of the nation's leading manufacturers of roll, sheet and continuous labels serving multiple industries.
KLC has elevated Al Pituch to Vice President, Business Development. Pituch spent several successful years at Kieran Label as Business Development Manager. Prior to KLC, he held sales management and account executive positions with Advanced Web, CCL Label, Sancoa International, Avery Label and Fasson which encompass more than 25 years of industry experience. Pituch resides and principally works from Phoenix, Arizona.
KLC has also recruited outside talent to further develop its manufacturing leadership. Allen Henry joined as Director of Operations, and brings a wealth of industry-specific knowledge and experience with him. Henry held management and ownership positions at WS Packaging Group, Gorilla Label and CCL Label. His responsibilities include overseeing customer service, human resources and the entire production department.
On the finance side, KLC has brought Amor Ligsay aboard as Controller. Ligsay's responsibilities include overseeing KLC's entire accounting department. Her prior work included management positions in finance and accounting at a variety of companies within the technology field.
Additionally, Rick Van Gils was named Strategic Accounts Manager. Van Gils began his career with Avery Dennison Label and was employed there over ten years. He was a Senior Sales and Account manager for Gold Coast Graphic, and lead estimator at Ampsersand Label.
KLC CEO and Chairman Denis K. Vanier stated, "The appointments of Pituch, Henry, Ligsay, and Van Gils reflect the outstanding talent of our management team. Our strength as an organization is rooted in the leadership of our people as we continue to make investments in the company to provide a world-class platform for label manufacturing excellence."
About KLC
About Kieran Label
The only vertically integrated label manufacturer in the Western United States, KLC is an industry leader in innovation. KLC doesn't just die-cut and print custom labels, it also manufactures pressure sensitive label materials. This technology provides KLC clients with the benefits of lowest cost sourcing, on-demand R&D capabilities and delivery times half the industry average. Custom label products include solutions for the agriculture, food and beverage, health care, cosmetic and logistics industries. KLC has been headquartered in San Diego County since 1979.
For more information on Kieran Label, please visit http://www.kieranlabel.com or contact us at info(at)kieranlabel(dot)com