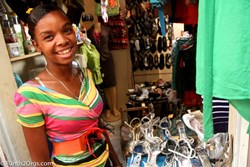 Orlando, FL (PRWEB) October 10, 2013
Following a successful launch in April 2013, social enterprise Funds2Orgs announces today the expansion of their popular "shoe drives" into three more specific categories: Mini, Flash, and Mega. Created to provide a realistic fundraising solution for the 1.5 million US nonprofit organizations and boost devastated economies in developing nations, this Funds2Orgs expansion now allows smaller charities, churches, and schools the opportunity to take advantage of the thriving "fundraising" shoe drives.
"Our new Mini drive enables organizations to collect gently worn, used shoes, which could generate around $1,000 for their efforts for collecting 2,500 pounds of shoes," said Tom Henderson, Chief Fundraising Strategist at Funds2Orgs.
"The demand from smaller organizations coupled with our new logistics strategy is a true win-win for these groups to raise much needed funds. We have the logistics in place to execute the pick-ups free of charge which maximizes the organizations funds," added Henderson.
In addition to this valuable development, Funds2Orgs also announces plans of opening of the first Funds2Orgs DEPOT in Haiti slated for Spring 2014. Serving as a direct hub for microenterprise partners, this outlet will also provide training and support for vendors to further fuel street-level operations and their overall economy. Thus, vendors in developing nations are now given the same chance to achieve self-sustainability that US nonprofit organizations can receive from Funds2Orgs through the microenterprise – "micro-jobs" being employed.
"We are thrilled that our enterprise has worked with hundreds of organizations to date and that we are adding to the infrastructure to support this rapidly growing number," exclaimed Henderson.
About Funds2Orgs
Funds2Orgs is a Social Enterprise that offers real, relevant and engaging Fundraising strategies that are proven with a vertical humanitarian impact. Funds2Orgs provides turnkey solutions to engaging volunteers and creating powerful events that drive funds for nonprofit organizations by collecting, distributing and repurposing discarded articles such as shoes, clothing, purses, cell phones and other electronic goods. Sign up today on http://funds2orgs.com to begin a successful fundraising event for your organization.
RELATED LINKS
http://funds2orgs.com
http://wayneelsey.com