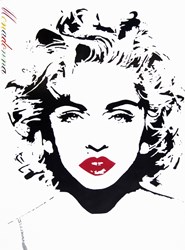 First Time in Florida
Miami, FL (PRWEB) October 11, 2013
One of the most prominent, yet anonymous, female street artists in the world is making her gallery debut in South Florida at Markowicz Fine Art Gallery in the Miami Design District. The gallery is showcasing some of graffiti artist Bambi's limited edition artwork in anticipation of an upcoming exhibit of unique original paintings later this year. Art lovers can visit Markowicz Fine Art Gallery, located at 114 Northeast 40th Street in Miami, to get an exclusive look at these iconic works.
Bambi, whose name is a shorter version of her father's childhood nickname for her, "Bambino", has been painting street art in the North London suburb of Islington for years. During this time, she has gained a claim to fame by stenciling and spray-painting, highly visible and public murals of both everyday people and celebrities such as Prince William and Kate Middleton, Queen Elizabeth II and Amy Winehouse. Her art is a reflection of current events or icons of modern times, including secret agent, James Bond, played by Daniel Craig and soccer superstar, David Beckham.
Bambi's street art has skyrocketed her to the top of her field. Her pieces are not only garnering the attention of graffiti fans, but art lovers around the world. She even has a celebrity following that includes actress Angelina Jolie, her husband actor Brad Pitt and singers Rihanna and Adele are among her collectors. Bambi was even commissioned by model Kate Moss to paint a personal street art portrait of her, similar to Andy Warhol's classic "Marilyn".
"I had been looking for a great street artist for a long time and Bambi was a revelation to me," said gallery owner Bernard Markowicz. "Bambi's imagery and depictions of today's society are stellar and iconic," Markowicz added.
Bambi is gaining fame not only for her subject matter, but for her take on the once gritty art form; Bambi uses the traditional pencil and spray paint, but adds vibrant pops of color, diamond dust and gold leaf to her artwork to add a bright and feminine touch to the medium. A graduate of St. Martin's Art College in London, Bambi's works include "Red Amy jade" stencil, "I'm Too Hot For My Burka" stencil, "Hero to Zero" stencil and many more.
Bambi has never revealed her identity, but admitted having a prominent career in the music business as a singer. Some say she is M.I.A., Paloma Faith or Geri Halliwell, but no one really knows. As for her art, "The street is the gallery of the public," she once said during a rare interview. "I let my work speak for itself."