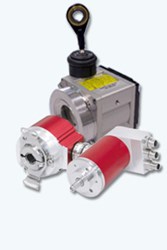 (PRWEB) October 11, 2013
TR Electronic rotary encoders with optical or magnetic scanning technology precisely acquire position in industries such as metal foundries, wind power generation, crane operation and more. Miniature versions ensure correct position feedback in the medical technology sector and SIL3 certified absolute rotary encoders ensure functional safety.
TR Electronic offers a wide range of absolute rotary encoders, from standard/compact styles with optical or magnetic scanning technology through to SIL3 certified functional safety encoders. TR Electronic double rotary encoders are available in a variety of interfaces to meet a multitude of redundancy requirements.
Incremental rotary encoders from TR Electronic are available in a wide variety of resolutions. Their simple and robust design allows for an economical solution for indicating position changes in a variety of applications, particularly where speed of operation is a concern. TR's selection of incremental rotary encoders includes a wide range of shaft, flange and housing options.
TR also offers a wide range of cable-retractors. This range extends from miniature cable-retractors with plastic housings through to more robust aluminium housings, available in a variety of measuring lengths. All cable-retractors from TR Electronic have an extremely stable spring return system, a measuring drum with a precise, single-layer unwinding mechanism and a backlash-free coupling.
For additional information on TR Electronic's motion solutions visit http://www.trelectronic.com. To speak with any member of their Customer Care Team, please call 1-800-265-9483 or email customercare(at)trelectronic(dot)com.
For a press kit or media contact, please contact
Lindsay Ocovich
Marketing Specialist
TR Electronic North America
(519) 452-1999
locovich(at)trelectronic(dot)com
Matthew Scott, P.Eng, MBA, CMA
Director of Operations and Strategic Development
TR Electronic North America
(519) 452-1999
mscott(at)trelectronic(dot)com