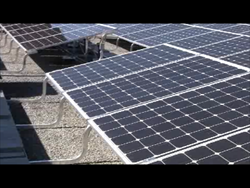 The new formed frame ballasted mounting system on this job uses no rails, has far less joints and fewer pieces so the cost of the entire mounting system is lower.
American Fork, Utah (PRWEB) October 15, 2013
In September, TRA Snow and Sun supplied 181 newly designed formed frame ballasted solar mounting system kits for Salt Lake City's Montessori Community School. The school was taking advantage of some photovoltaic solar power installation incentives offered by Rocky Mountain Power in Utah. The utility company offered incentives from $0.80 to $1.25 per watt of installed PV in 2013 and will offer incentives again in 2014.
The solar designers had decided on a 15 degree, ballasted system on the school's built-up roof. All solar panel jobs are unique due to elevation, wind, snow load, shading and roof type and this one was no exception. The basic requirements, which included 124 Solar World 265 watt panels, and other details of the solar panel system, were sent to TRA in August. Engineers at TRA Snow and Sun designed a new elevated ballasted system for the school and within three weeks all the parts were delivered.
Terry Anderson, CEO of TRA Snow and Sun, said, "We had been researching ways to reduce the cost of our ballasted solar mounting systems in an effort to make installations easier for our integrators for quite a while. When this project came up, it was the perfect time to roll out the new design."
Most ballasted solar mounting designs arrange panels in landscape orientation and install them only one or two inches off of the roof. Engineers at TRA designed the system on the Montessori School in portrait orientation and mounted panels 15 3/16" off the roof surface providing several benefits. Plumbing and other penetrations did not have to be avoided when designing the layout of the panels because the system is high enough to go right over them. Snow will also shed off the panel and accumulate on the roof, not the panel, which allows panels to be more productive since they aren't covered with snow. The portrait orientation allows for more panels to be placed in a given area, providing more power.
According to CAD/CAM Engineer, Travis Washburn, "The new formed frame ballasted mounting system on this job uses no rails, has far less joints and fewer pieces so the cost of the entire mounting system is lower. Also, the ballast tray is now continuous over the entire run of frames which is beneficial from an engineering perspective because the system is one piece." Many other mounting systems and even TRA's old system, mounted the panels to a rail and the rail mounted to the frame. The new system eliminates the rails. An additional 19.6kW of solar panels were also installed on the Montessori Community School's existing pitched roof area using TRA's Flush Mount solar racking system.
The Montessori Community School, which spends approximately $8000 per year on electricity, expects their new solar panels to provide 90-100% of next year's electrical power. The school's owner also plans to incorporate the energy production of the solar panel system into the curriculum for his students who will be able to see how much energy is being produced by the panels.
Intermountain Wind and Solar, located in Woods Cross Utah, is the region's leading installer of renewable energy systems, including solar and wind power products, as well as generators and off-grid systems. For more information, call Jack Matsen at (801) 298-5255.
TRA Snow and Sun, Inc., located in American Fork, Utah, offers Roof Snow Retention Devices, Solar Mounting Systems and Roof Ventilation and Flashing Solutions. They provide all customers, from the individual homeowner to the big developer, free engineered designs for all their systems. For more information, call Jacob Anderson at TRA Snow and Sun at 800-606-8980 or visit http://www.trasnowandsun.com