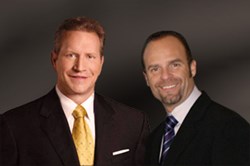 Atlanta, Ga (PRWEB) October 15, 2013
The field of Urogynecology has advanced from a sub-specialty of gynecology and urology to an official board certified profession recognized by the American Board of Obstetrics and Gynecology and American Board of Urology.
The field of Female Pelvic Medicine and Reconstructive Surgery has become an advanced specialty in the care of women with complex pelvic floor disorders and pelvic organ prolapse. There was a need for surgeons that focused in just this area to have additional training and certifications to provide more dedicated care to their patients in the hope of achieving better outcomes. Physicians that train in Urogynecology provide expertise in the evaluation, diagnosis and treatment of conditions that affect the female pelvic region. Physicians that are actively treating patients also participate in research studies and are current on any latest findings related to the conditions and treatments available.
Board certified gynecologists or urologists who practice and specialize in Female Pelvic Medicine and Reconstructive Surgery (Urogynecology) gathered in June of 2013 to take the first ever certification exam to advance from an accreditation sub-specialty to an official board certified sub-specialty of OB/GYN and Urology. To be eligible for the exam, physicians must have been practicing this sub-specialty for a minimum of 5 years post-training.
Dr. John Miklos and Dr. Robert Moore were amongst the first to become Board Certified in Urogynecology. This edifying accomplishment and quest for surgical success is why Dr. Miklos and Dr. Moore remain two of the busiest reconstructive surgeons in the United States, if not the world.
Both Dr. Miklos and Dr. Moore are double fellowship trained in Urogynecology and Reconstructive Pelvic Surgery and Laparoscopic Reconstructive Surgery. Patients can feel confident in their choice to be treated by surgeons who continue to pursue a greater quality of life for their patients.
With offices in Atlanta, GA and Beverly Hills, CA, International Urogynecology Associates would like to congratulate their physicians on this great accomplishment!