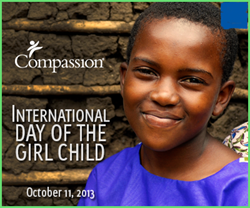 If you want to do something great in the world, sponsor a girl in sub-Saharan Africa.
Colorado Springs, CO (PRWEB) October 10, 2013
Compassion International recognizes the International day of the Girl Child, which encourages girl's rights and acknowledges the unique challenges girls face around the world. This year's theme is "Innovating for Girl's Education."
"We're excited about this year's theme because it coincides so strongly with our core objectives," says Mark Hanlon, Sr. VP of Global Marketing and Engagement for Compassion. "And it supports what independent research says about the effectiveness of Compassion's program."
Hanlon is referring to research conducted by Dr. Bruce Wydick, a leading economist at the University of San Francisco. Wydick conducted a years-long, empirical, peer-reviewed study that found that children who participate in Compassion's program are 27 to 40 percent more likely to complete secondary school, and 50 to 80 percent more likely to complete a university education, than their peers who do not participate in the program. The study also determined that Compassion-sponsored children were more likely to have salaried/white-collar employment as adults and to be community leaders than their non-sponsored peers.
"I always tell people if you want to do something great in the world, sponsor a girl in sub-Saharan Africa because we see enormous impacts in the sponsorships of little girls in places like Uganda and Kenya. If you sponsor a girl in sub-Saharan Africa, she's likely to obtain three more years of education, she's far more likely to finish high school and also has a greater chance of finishing university and getting a salaried, white-collar job in adulthood," Dr. Wydick says, of his study.
Wydick's research was published in the April 2013 issue of the Journal of Political Economy. More information and video interviews on the findings can be found at http://www.compassion.com/wydickresearch.
Education Transforming Lives
Pauline Shonku (16), a Compassion child attending Ewaso-Nagile Girls School in Kenya, says, "I want to shape my future so that I can be of help to myself and others. I want to be a doctor. Other girls (not in school) look much older than me. They are married and have children at a young age and they face many hardships at home."
Issac Teeka, a history teacher at Ewaso-Nagile Girls School, said, "Illiteracy and lack of exposure has dragged us behind. We have many bright girls who can compete with anyone. This opportunity to be in school offers them a chance."
Of Compassion's 1.4 million registered children, 690,000 are female and 26,751 are registered mothers and their infants. Compassion uses holistic curriculum that focuses on physical, spiritual, cognitive and socio-economic topics. Compassion works with the local church to ensure that school fees are paid for, and school supplies, uniforms and tutors are provided. Volunteer tutors and teachers are often formerly sponsored children looking for ways to give back to their community.
About Compassion International
Compassion International is the world's leading authority in child sponsorship. Compassion revolutionized the fight against global poverty by equipping the Church to develop children out of poverty to become responsible and fulfilled Christian adults. It is the only child sponsorship program to be validated through independent, empirical research. Today, Compassion partners with more than 6,000 Christian churches in 26 countries to release more than 1.4 million babies, children and students from poverty in Jesus' name. Compassion has been awarded the highest rating for financial stewardship and transparency for 12 consecutive years by Charity Navigator, America's largest charity evaluator. For more information on the ministry, visit compassion.com or follow us on Twitter at @compassion.
About International Day of the Girl Child
On Dec. 19, 2011, the United Nations General Assembly adopted Resolution 66/107, declaring 11 Oct. as the International Day of the Girl Child. The day recognizes girl's rights and the unique challenges girls and young women face globally. The United Nations believes that the fulfillment of a girl's right to education is "first and foremost an obligation and moral imperative." Education in the life of a girl is a "powerful transformative force for societies and girls themselves." Elevating the education of girls and young women boosts nearly every development outcome including morality and fertility, poverty reduction, equitable growth, democratization and social norms.
Facts from dayofthegirlchild.org

The average sub-Saharan African girl from a low-income, rural household gets less than two years of schooling and never learns to read and write, to add and subtract, as opposed to the average sub-Saharan African boy who fully completes primary education.
Education drastically reduces child marriage. On average, a girl with seven years of education will marry four years later and have 2.2 fewer children.
A girl who completes basic education is three-times less likely to contract HIV.
Education is essential for a strong economy. One extra year of school boosts a girl's future wages 10 to 20 percent.
Children born to educated mothers are two-times more likely to survive past the age of five.
# # #