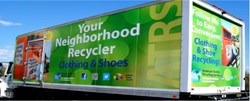 "Our partnership with The Competitor Group keeps textiles out of Music City landfills, helps our local charities and does something great for the planet. Knowing we helped the homeless and the hungry brings us so much joy." -- Nathan Jones, ATRS Nashville
Nashville, TN (PRWEB) October 10, 2013
Thanks to the generosity of participants at the Rock 'n Roll Women's Half Marathon in Nashville TN on Saturday September 28, 2013, two area charities were blessed with a much needed donation to support local mission outreach.
Race participants were encouraged to bring a bag of running gear and shoes to the start line at Walk of Fame Park in downtown Nashville for recycling. Distinctive ATRS trucks and volunteers collected over 1,000 pounds of apples, bananas, packaged oatmeal bars, pretzels and other perishables from the Finish Line, and delivering them to Nashville Rescue Mission and the Good Shepherd Children's Home in Murfreesboro TN. Approximately 150 pounds of unused event tees and medals were collected and will be recycled with the proceeds to benefit the Nashville chapter of Mothers Against Drunk Driving (MADD).
Nashville residents can recycle unwanted clothes, shoes, toys and household textiles to support MADD all year round simply by calling the 24-Hour Hotline with your address or zip code at 1-866-900-9308.
"It's an honor for us to volunteer at these events," says Nathan Jones, Market Manager for ATRS Nashville. "Our partnership with The Competitor Group keeps textiles out of Music City landfills, helps our local charities and does something great for the planet. Knowing we helped the homeless and the hungry brings us so much joy."
American Textile Recycling Service (ATRS) is the nation's fastest growing textile recycler and an official recycling partner of Rock 'n Roll Marathon. Its socially responsible business model provides free textile recycling solutions for the public, job stimulation worldwide and much-needed funding for worthy local charities. Easy, convenient ATRS Recyclers are available throughout Nashville, Texas, Florida, Michigan, Tennessee, Atlanta, Oklahoma, Arizona, Colorado, and Southern California. ATRS is committed to keeping textile waste from local landfills and promoting a greener tomorrow. For press inquires contact pr (at) atrsonline (dot)com.