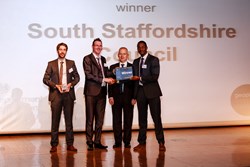 Richard Mason, Managing Director of GeoPlace, said, "Bins need to be collected, care needs to be provided, local taxes need to be collected and potholes need to be mended, and all of these happen at a location."
London (PRWEB UK) 14 October 2013
GeoPlace, the centre of excellence for the management of spatial address information and street data for Great Britain, has announced the winners of the 2013 Exemplar Awards. This took place at the 'Everything Happens Somewhere' conference, which was held on 9th October 2013 in Central London.
The Awards celebrated excellence in service delivery that had been enabled through local government address and street information.
Richard Mason, Managing Director of GeoPlace, said, "Address and street information is integral to the delivery of services by local authorities as 'Everything Happens Somewhere.' Bins need to be collected, care needs to be provided, local taxes need to be collected and potholes need to be mended, and all of these happen at a location. The work that address and street data professionals do enable this to be done more efficiently."
The Exemplar Awards recognise the vital role address and street information professionals play in local service delivery, celebrating their achievements and providing external acknowledgement of innovation, creativity, best practice, hard work and achievement.
The main category winners of the 2013 Exemplar Awards are:
The Citizen Award, sponsored by Defra: South Staffordshire Council. Focusing on waste management services, the project has enabled annual contract savings of £380,000, a reduction of 15% and has enabled the council to improve upon existing high levels of customer satisfaction. South Staffordshire Council were also the recipient of the '2013 Exemplar Award' as voted by the attendees to the Everything Happens Somewhere conference.
The Improvement and Efficiency Award, sponsored by the Local Government Association: Barnsley Metropolitan Borough Council. Working with the taxation team, the project focused on identifying and recording information about local businesses quickly and accurately, providing an enhanced revenue stream back to the council.
The innovation in Service Delivery, sponsored by the Society of IT Managers (Socitm): London Borough of Tower Hamlets. This project was the principal driver in changing the culture and operational models for numerous teams throughout the council producing large scale savings and other tangible efficiency results within a relatively short timescale.
The Best Practice Award, sponsored by Ordnance Survey: Nottingham City Council. By working to national guidance the council has improved property identification across council and for external bodies, reducing address problems for existing and for new occupiers.
The Integration Award, jointly won by: Newham Council and North Somerset Council. Newham Council. As a result of changing council processes regarding tenure data, instances of sub-letting within council properties, and a number of unlicensed privately rented properties have all been identified. North Somerset Council. Whilst many sites may have already used data to optimise waste collection routes, this project focussed at the property level and the sustainability of links between a diverse range of systems.
The Street Naming and Numbering Award: Cambridge City Council. Working with Trumpington Residents' Association & Trumpington Local History Group, the council has identified a range of street names of local and historical significance.
END
GeoPlace contact:
Gayle Gander
Head of Marketing
+44(0)207 747 3500, email: gayle.gander(at)geoplace(dot)co.uk
http://www.geoplace.co.uk
GeoPlace
GeoPlace is a public sector limited liability partnership between the Local Government Association and Ordnance Survey. GeoPlace's role is to create and maintain the National Address Gazetteer and the National Street Gazetteer for England and Wales, providing definitive sources of publicly-owned spatial address and street data for Great Britain. Through agreement with Scotland's Improvement Service Company, coverage has been extended to include Scotland.
Local Government Association
The Local Government Association is here to support, promote and improve local government. The LGA fights local government's corner and support councils through challenging times by making the case for greater devolution, helping councils tackle their challenges and assisting them to deliver better value for money services. Visit http://www.local.gov.uk.
Ordnance Survey
Ordnance Survey is Great Britain's national mapping agency. Its job is to collect, maintain and distribute the most accurate and up-to-date geographic information (GI) of the whole country that government, business and individuals rely on. Visit http://www.ordnancesurvey.co.uk.