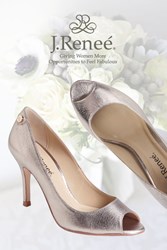 J.Renee' is excited that Watters selected the Evon shoe from our footwear line to pair with its new bridal collections at the show.
(PRWEB) October 11, 2013
Leading women's shoe designer, J.Reneé, is proud to announce they will be the featured shoe sponsor at the Watters runway show during New York Bridal Week.
The show will take place Saturday, October 12th at the New York Hilton in midtown New York City where J.Renee's, Evon shoe, a peep-toe pump crafted using metallic nappa leather, will be accessorizing Watter's extraordinary bridal collection.
"J.Renee is excited that Watters selected the Evon shoe from our footwear line to pair with its new bridal collection at the show," says J.Renee' lead designer, Kai Harrison.
Watters, founded by Vatana Watters, is a Dallas, Texas based bridal designer, dedicated to creating innovative and luxurious styles for brides, bridesmaids, junior bridesmaids, mother of the wedding and flower girls around the world. Beginning in 2013, Watters announced Watters wedding veils and Watters bridal accessories as an addition to their elegant collections. Vatana recognizes that design is where it starts, but not where it ends which is why Watters continues to be appreciated for being a cut above for quality and responsiveness.
To learn more about Watters and their exquisite bridal collections please visit http://www.watters.com. Wedding parties can shop the Evon and new arrivals at http://www.jrenee.com.
About J.Reneé:
J.Renee' is the signature brand of Remac, L.L.P., a family-owned business founded in 1974 by husband and wife team Renee' and Micky Harrison. The eponymous J.Renee' brand is passionate about developing vibrant, feminine and innovative products combined with top of the line quality. Our goal is to provide the fashion savvy customer designer looks at affordable prices. The collection features elegant fabrics, trend right prints and bold embellishments. Eric and Kai Harrison shared their parent's vision and took the reins in 2008, creating footwear and accessories to fulfill the company's vision, giving women more opportunities to feel fabulous! Remac L.L.P. is based near Dallas, Texas and distributes product world-wide in department stores, specialty chains and independently owned stores and boutiques.