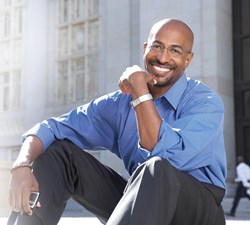 Pittsburgh, PA (PRWEB) October 15, 2013
ACI (Affordable Comfort, Inc.) announced today that Van Jones, current host of CNN's Crossfire, green jobs pioneer, and former White House advisor, will deliver the keynote presentation at the 2014 National Home Performance Conference & Trade Show in Detroit, MI on Wednesday, April 30.
Jones is a globally-recognized leader in human rights and the clean energy economy with more than 20 years of experience in social entrepreneurship. In 2007, Jones founded Green For All, a national nonprofit organization dedicated to improving the lives of all Americans through a clean energy economy. Prior to his service as the green jobs advisor to the Obama White House in 2009, he was the main advocate for the Green Jobs Act, the first piece of federal legislation to codify the term "green jobs." Jones's book, The Green Collar Economy, is a New York Times bestseller that outlines a plan for solving both socioeconomic inequality and environmental problems.
The keynote presentation kicks off the 2014 National Home Performance Conference, an annual event attracting members from all sectors of the home performance industry. Home performance professionals create solutions for the comfort, health, and durability of residential buildings by exploring how buildings use energy and how building materials and appliances affect energy efficiency, air circulation, and moisture.
The 2014 National Home Performance Conference, themed Creating a Better America, will convene contractors, HVAC, utilities, manufacturers, weatherization programs, government agencies, and all professionals working toward residential energy efficiency for a comprehensive educational agenda, unparalleled networking opportunities, the industry's largest exhibitor trade show, and a unique opportunity to engage in community service. More information is available at http://www.affordablecomfort.org/national2014.
-END-
About ACI
ACI (Affordable Comfort, Inc.) is a nonprofit professional association dedicated to making every home healthy, comfortable, and resource-efficient. Since 1986, ACI has served as an unbiased go-to resource for home performance, bringing together industry leaders for the purpose of education, professional networking, and business-to-business collaborations. For more information, please visit http://www.affordablecomfort.org.
###