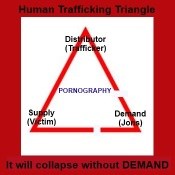 Human Trafficking operates on the same model of any other business. It operates on the premise that demand creates the supply. End the demand and the supply will stop being produced.
(PRWEB) October 15, 2013
Co-founders, Marion and Yvonne Williams have been addressing the demand issues connected to human trafficking for nine years, but not in an organized attempt to create real programming. While their stance has been firm and their voice is growing louder, they have come to the conclusion that, "drying up the demand has to be a primary part of the goal. Where there is no demand there is no product. We need to challenge our value system in America in every venue and get to the root if we are ever going to stop the brutal business of raping children, men, and women for profit. The entertainment industry's impact on American culture along with Corporate America's marketing approaches in using sexual overtones to sell product, including pornography's insatiable need to destroy humanity by continuing to mold men's perceptions of women (and women's perceptions of men); and other cultural norms that are fueling the demand side of modern slavery cannot be left out of the movement to eradicate human trafficking." Lindsy Anton, Vanderbilt student working on her Masters in Counseling has been selected to head up the Demand Arm of the TIATF-Alliance which was formed to address 7 major areas in the movement to end modern slavery.
After attending the recent Tampa Summit on Human Trafficking, Williams was disturbed at the lack of attention not given to demand, and the absolute lack of interest in creating a viable programs to address demand side of human trafficking, rather than locking them up and throwing away the key. "This is not a sustainable solution," states Williams. "I spoke with several people at the summit about that missing piece (1 legislator, 1 law enforcement, and several NGO's) and the interest is just not there," said Yvonne Williams, President of TIATF, with the exception of one survivor that shared my views," she continued. "One law enforcement officer and I had the best discussion. He was sincerely seeking answers by stating that they cannot keep up with the current work load and knows that real solutions for demand reduction is necessary, but he wasn't sold on the reality that changing one's mind-set is a real remedy."
Williams posted about the demand issue on her Facebook group in order to monitor current mindsets and was saddened by many of the male comments. The most positive comment from the men who participated in the discussion about working to end demand came from a male survivor of human trafficking (not named to protect identity) in response to the traditional 'men are men' attitude and an attempt to move the conversation to the Pimps and away from the Johns - the buyers and source of the demand. "Targeting sellers is definitely an important part of the approach, but to minimize the importance of demand is actually less realistic. Men are not biologically bound to become users and abusers, I don't care what anyone says. I believe there are two main factors involved when it comes to understanding demand. These are addiction and conditioning. I want everyone to consider the growing awareness of addictions in our society and what causes them. Many addictions are the result of coping with trauma. Touching on the conditioning aspect briefly, think about grooming tactics that are used to gain the trust of victims in order to exploit them. Now imagine conditioning working in the other direction, meaning the intentional compromising and corruption of young boys' integrity and values. Society seems to have thrown in the towel when it comes to addressing demand. People believe boys and men will never change, and that is a defeatist attitude that permeates modern culture. We need big changes in how boys are raised to become men," he said. Williams states that, "This was the most positive approach to addressing demand I've heard. Changing lives is the best solution to any civil issue," she said.
TIATF understands that while arresting those involved in demand is necessary, "It is only a temporary fix in some ways," she said. She agrees with a college student who conducted interviews with over 1,000 Johns and determined, "The only real remedy is to bring healing to our male population. When one man is healed from his unhealthy ideas, he will in turn help others and eventually the demand begins to dry up." Williams ends the post with, "It is time for activists to move into this arena for all who are willing to take it on."