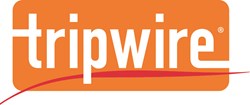 These awards are a testament to our innovation and the value we deliver to our customers
(PRWEB) October 14, 2013
Tripwire, Inc., a global provider of risk-based security and compliance management solutions, today announced that three of its products were recognized with four Golden Bridge Awards for Innovations in Information Technology. Winners were honored during the awards dinner and presentation on September 30, 2013, at the Mark Hopkins Hotel in San Francisco, California.
Tripwire® Enterprise NERC Solution SuiteTM won the 2013 Golden Bridge Award in the FERC/NERC CIP Compliance category. The Tripwire NERC Solution Suite provides a comprehensive solution for NERC CIP compliance by offering a combination of standard products, NERC-specific extensions and industry-experienced consultants. The development of NERC Solution Suite leverages Tripwire's extensive experience helping over 140 energy organizations automate the evidence required to pass NERC CIP audits.
Tripwire Enterprise won the 2013 Golden Bridge Award for Security Solution for Enterprise (Large). Tripwire Enterprise is a security configuration management (SCM) suite whose Policy Management, File Integrity Management, and Remediation Management capabilities standalone or work together in a comprehensive, tightly integrated SCM solution. The suite lets cyber security teams rapidly achieve a foundational level of security throughout their IT infrastructure by reducing the attack surface, assuring system integrity and delivering continuous compliance.
Tripwire IP360TM won two silver awards: one in the Security Solution for Enterprise (Large) category and one in Vulnerability Assessment and Remediation category. Tripwire IP360 comprehensively profiles all networked devices and includes up-to-date coverage of the latest operating systems, applications and vulnerabilities, providing the ideal foundation for assessing every system on the network. Tripwire IP360 has enabled thousands of enterprises and government agencies to cost-effectively measure and manage their security risks.
In addition to the product awards, Tripwire's State of Security and the company's growth were honored with two bronze awards for Best of Web, Blog and Business Expansion of the Year respectively.
The annual Golden Bridge Awards and Business Innovation program encompasses the world's best in organizational performance, products and services, executives and management teams, women in business, innovations, case studies, product management, public relations and marketing campaigns, and customer satisfaction programs from every major industry. Organizations of every size from around the world are eligible for nomination. Judges from a broad spectrum of industries participate in the selection of Golden Bridge Award winners.
"We are very pleased that we won four Golden Bridge Awards," said Elizabeth Ireland, vice president of product marketing for Tripwire. "This was an eventful year for Tripwire and it's rewarding to be honored by our industry peers as well as business and industry leaders for our groundbreaking product suite. These awards are a testament to our innovation and the value we deliver to our customers."
About Tripwire, Inc.
Tripwire is a leading global provider of risk-based security and compliance management solutions, enabling enterprises, government agencies and service providers to effectively connect security to their business. Tripwire provides the broadest set of foundational security controls including security configuration management, vulnerability management, file integrity monitoring, log and event management. Tripwire solutions deliver unprecedented visibility, business context and security business intelligence allowing extended enterprises to protect sensitive data from breaches, vulnerabilities, and threats. Learn more at http://www.tripwire.com, get security news, trends and insights at http://www.tripwire.com/state-of-security/ or follow us on Twitter @TripwireInc.