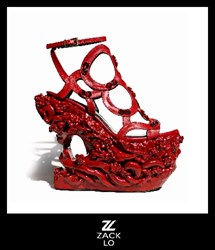 "I have always been attracted by the power of the ancient goddesses: capricious and compassionate, often cruel but always fascinating. I drew on these feelings for Panic." --Zack Lo
Boston, MA (PRWEB) October 11, 2013
Zack Lo conjures up the female force of Panic: she moves fearlessly from day to night, effortlessly transforming from alarming to alluring. Pandemonium follows her with every step as she strides with the rhythm of an ancient deity emerging from the sea or a rock 'n' roll goddess mounting the stage before spellbound fans. The mistress of Panic weaves a tale of mystery and terror so mesmerizing you can't take your eyes off of her. She is always in control, ensnaring those daring enough to approach.
Panic is the latest custom shoe collection by edgy designer Zack Lo, himself a master of materials and mystique. Panic, which features Lo's signature workmanship, draws on the iconography of primal goddesses matched with exquisite detailing in leather, crystals, beads and other embellishments in an alchemy of style and function.
Panic will officially debut during Taipei IN Style 2013 on October 15 to 17, 2013, at the Taipei World Trade Center Nangang Exhibition Hall. More than 27,000 visitors are expected to attend this mega event, which will feature a range of runway collections by international designers, as well as showroom exhibitions by some of the hottest brands emerging on the world fashion stage.
Lo will showcase Panic, an exclusive line of custom footwear, which features shoes like Phantoma, an organic Cinnabar colored platform sandal with primal appeal, Susperia, a black suede platform shoe studded with hematite Swarovski crystals and the watchful gaze of an earth spirit, and Specter, a cutaway boot of quilted white leather and studs, equally suitable for disco or Roman saturnalia.
"I design from a place of intuition, drawn to what I consider 'beautiful,'" says Lo. "I have always been attracted by the power of the ancient goddesses: capricious and compassionate, often cruel but always fascinating. I drew on these feelings for Panic."
Zack Lo has been making waves in the fashion world since his debut shoe collection, Voodoo Circus, which was inspired by life in the West End London, and the experience of shopping on Carnaby Street and Oxford Circus. Other collections have followed, and Lo has expanded into handbags, statement jewelry and other accessories.
His fashion footwear has appeared in Glamour, InStyle and British Vogue, as well as other international print magazines and broadcast media. Zack Lo shoes have been featured at Fashion Week runways in New York City, Boston and Las Vegas, as well Couture Fashion Week exhibitions in New York City and Chicago. The brand has also enjoyed international exposure on runways in Hong Kong and Taipei. Lo won the 2012 Boston Fashion Award and his shoes are favored by young style-setting Hollywood actresses, such as Augie Duke (Bad Kids Go to Hell and The Mentalist) and Oona Chaplin (Game of Thrones).
About Zack Lo Shoes
Zack Lo Enterprises, and its primary division of Zack Lo Shoes, is a privately owned company dedicated to the design, manufacturing and distribution of luxury fashion footwear and other accessories.
The company's principle product to date is high-heeled shoes from multiple but distinctive collections by designer Zack Lo. The hand-crafted shoes are European designed and sized, and are noted for their high quality of material and superior style integrity.
Recently, the brand has expanded its exclusive custom capsule collections of women's shoes marketed directly to entertainers and their stylists. See http://www.zacklo.com.
For Press Inquiries:
Barbara Lane
The Lane Style House
Barbara(at)thelanestylehouse(dot)com
(760) 403-2865
or
Kevin Wery
Zack Lo Shoes
info(at)zacklo(dot)com
(617) 669-4548
Image Credits: Zacklo.com
Photographer: Stretch Photos
MUA: Susan Ward Brooks
Hair: Dominic Alonzo @ DMA Salon
Fashion Stylist: John Castro
Assistant: Blythe Brooks
Models provided by Agence Red Wall