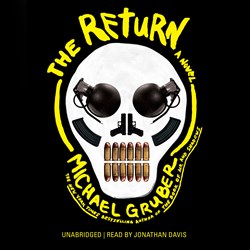 Gruber has a gift for seamlessly combining the visceral with the cerebral, without any degradation of quality on either side of the coin.—Kirkus Reviews (starred review)
Ashland, OR (PRWEB) October 11, 2013
New York Times and award-winning author Michael Gruber talks with Downpour.com about his stunning new thriller, "The Return," available in audiobook exclusively from Blackstone Audio. In this interview Gruber shares the development of the storyline and his main character, Richard Marder. He also discusses his interest in writing about Mexico and the cultures, gives insight into his preparation for writing about social issues and tells of how his life and science background influence his novels. The audiobook format of "The Return," narrated by Jonathan Davis, is published by Blackstone Audio, Inc., and available now on Downpour.com.
Library Journal named "The Return" as one of its "Four Commercial Blockbusters" for September 2013 and the Denver Post called Gruber the "Stephen King of crime writing." Gruber also received accolades for his previous novel, "The Good Son," which was lauded by Stephen King as his favorite book of 2012, advising President Obama, in the pages of Entertainment Weekly, to read it.
"Gruber has a gift for seamlessly combining the visceral with the cerebral, without any degradation of quality on either side of the coin…Like Gruber's other books, this novel puts the work of other thriller writers to shame and raises the quality bar for the genre to a precipitously high level," said Kirkus Reviews in a starred review of "The Return."
"Michael Gruber gives fans of the thriller genre exactly what they are looking for, and the audiobook brings an even deeper dimension to the story he writes," said Charity McGregor, Downpour.com Publicist. "We are pleased to feature Michael Gruber as one of the authors in our Downpour.com interview series and we anticipate great success with the audiobook of 'The Return'." In this interview, conducted by award-winning narrator Malcolm Hillgartner, Gruber also talks about his first book "Tropic of Night," what inspires his stories and how writing has always been a part of his life.
"The Return" and other Michael Gruber audiobooks are available now on Blackstone's retail site, Downpour.com.
ABOUT MICHAEL GRUBER
Michael Gruber, a former marine biologist, restaurant cook, federal government official, and political speechwriter, traveled a fascinating path toward his latest occupation as the bestselling author of critically acclaimed thrillers such as "The Book of Air and Shadows."
ABOUT DOWNPOUR.COM
Downpour.com is an audiobook retailer offering tens of thousands of the best audio books as digital downloads or on CD and MP3 CD. Downpour.com is an ecommerce subsidiary of Blackstone Audio, Inc., the producer of high-quality audiobook entertainment since 1987 and the largest independent audiobook publisher in the US. Blackstone merged with AudioGO, the home of BBC Audiobooks, in December 2012 and combined as Blackstone Audio, Inc. It is now one of the leading publishers of distinctive single-voice and full-cast dramatization audio books in the world, with thousands of new titles added each month from various top publishers to its retail site Downpour.com.
For more information about this topic or to schedule an interview please contact:
Greg Boguslawski, Head of Wholesale Sales and Merchandising, Phone: 541-488-6035, Ext. 1041
Blackstone Audio, Inc. | Downpour.com
Thank you for your interest.