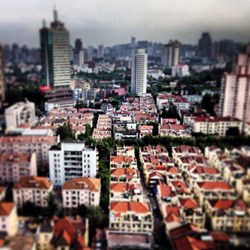 The new representative office symbolizes a successful story of integration between two Italian institutions in a foreign country
Verona, Italy (PRWEB) October 11, 2013
Vinitaly International continues with its strategic plan to strengthen its presence in China by inaugurating a new office in the Shanghai headquarters of ICE, the Italian Trade Promotion Agency, in order to better represent and support Italian wine producers in a complex and increasingly expanding Chinese wine market.
China is today one of the most promising and most complex markets in the world: the country imported nearly 120 million litres of wine during the first 5 months of 2013 (+ 26% with respect to the same period in 2012) for a total value of 610 million US dollars (+14%). With a constant upward trend of per capita wine consumption (1,31 litres in 2012 with respect to 0,3 in 2003), the country will most likely become the number one wine consumer in the world by 2015 (Source: VAFFANCINA.IT, 20 August 2013, http://tinyurl.com/ptxspmn).
Despite its growing numbers, China remains one of the most difficult markets to penetrate, due to its size and the complexity of its laws. Furthermore historical and cultural differences have resulted in a reduced tendency towards wine consumption among Chinese drinkers.
Faced by these difficulties, Italian wine producers have yet to take full advantage of the great potential offered by the Chinese wine market: Italy ranks 5th place among wine importing countries in China with just a 7% market share. Despite registering an increase in volume and value during 2012 (102,4 million euro for approximately 36 thousand hectolitres), Italy is still lagging behind France, Australia and Spain, which according to the International Wine and Spirit Report, lead the way with, respectively, a 48%, 13% and 10% market share
(Source: http://www.OPERAWINE.IT, 9 October 2013, http://www.operawine.it/statistics/wine-by-numbers).
Aware of the need to create a united front in order to penetrate such a complex market, Veronafiere has been actively supporting wine producers since 1998 through the organization of a number of showcases in Asia under the common brand name of Vinitaly International. Additionally, incoming activities carried out during the Vinitaly trade fair in Verona, have allowed a strong increase in the number of Chinese visitors offering new business opportunities to local wine producers.
In order to further strengthen its presence in China, today Vinitaly has taken one extra step by opening a new representative office in Shanghai on the 19th floor of The Centre, headquarter of the Italian Trade Promotion Agency.
"In order to successfully challenge the Chinese wine market, Italian producers need to speak as one voice and Vinitaly intends to continue in its effort to help them take advantage of the market's great potential", said Giovanni Mantovani, General Director of Veronafiere. "The new representative office opened today in the ICE headquarters in Shanghai symbolizes a successful story of integration between two Italian institutions in a foreign country. In addition to the new office, which will allow us to offer concrete support in loco to all wineries intending to invest in the Chinese wine market, we are also planning some other new initiatives: from the 7th to the 9th of November, Vinitaly International will be present at the Hong Kong Wine and Spirits Fair while in March, we will be taking part in the Off Site Showcase in Chengdu, the number one b2b event in the Chinese world of wine. On this occasion we will also take the opportunity to present our new educational project, Vinitaly International Academy, organized in collaboration with the most influential sommelier associations and wine educators in China."
"The Italian Trade Promotion Agency is as always at the side of Veronafiere, this time in Shanghai" continues the president of ICE, Riccardo Monti. "Lately we have been focusing on new emerging markets such as Asia. Since the country is showing an increasing interest, especially amongst the urban middle class, at this moment in time it is important to help Chinese consumers and media get to know Italian wines".
Vinitaly's strategic penetration of the Chinese wine market has also been aided by a strong presence on the Net. In view of a probable 30% yearly increase, the Chinese online wine market is destined to gain first place world wide within the next three years. In order to take advantage of the potential offered by such a rapid growth, Vinitaly's new e-commerce platform, Vinitaly Wine Club, is soon to be launched in China. Vinitaly International is also the first organization to have opened an official account on WeChat earlier this year, entering into direct contact with more than 591 million Chinese users (Source: CNNIC - Statistical Report on Internet Development in China, January 2013, http://tinyurl.com/lfbu5rb)
About:
Veronafiere is the leading organizer of trade shows in Italy including Vinitaly (http://www.vinitaly.com), the largest wine event in the world. The 47th edition of Vinitaly counted some 148,000 visitors (+6%), of which 53.000 were international attendees (+10%) visiting from 120 countries. On 95.000 square meters, 4.200 exhibitors welcomed trade professional, media and producers alike. The next instalment of the fair with take place on 6th-9th April 2014. The premier event to Vinitaly, OperaWine (http://www.OperaWine.it) "Finest Italian Wines: 100 Great Producers" will unite international wine professionals on April 5th 2014 in the heart of Verona. Veronafiere also created Vinitaly International http://www.vinitalytour.com in 1998 to develop a global platform for the promotion of companies in the Italian wine and food sectors.
# # #