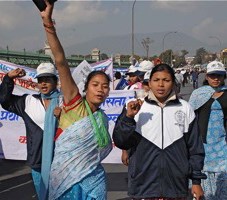 To ensure that the newly freed girls enjoy the promise of a better life, they need long-term educational support, vocational training and economic opportunity.
Sausalito, CA (PRWEB) October 10, 2013
In June of this year, the government of Nepal declared the abolition of the Kamlari system, a remarkable development in the campaign to end child slavery launched in 2000 by the Nepal Youth Foundation — a wonderful victory to celebrate on International Day of Girl.
Krishna Chaudhary, a girl who was rescued from child slavery by the Nepal Youth Foundation, has sent a video message to the world on International Day of the Girl — a message about the end of the Kamlari system and the beginning of freedom and education.
Nepal Youth Foundation (NYF) has freed and educated more than 12,000 girls since beginning its Indentured Daughters Program, offering a roadmap for anyone fighting to end modern-day child slavery and oppression.
"Kamlari is now officially abolished in Nepal," said Som Paneru, president of NYF, an international nonprofit based in the U.S. dedicated to caring for Nepal's most destitute children. "But there is still much work to do. To ensure that the newly freed girls enjoy the promise of a better life, they need long-term educational support, vocational training and economic opportunity."
Generations of young girls from Western Nepal were "sold" into indentured servitude by their parents who were too poor to provide for them. In exchange for their daughters' labor, families received about $70 a year from wealthier Nepalis who used the girls as household slaves.
NYF used a five-pronged approach in its campaign to abolish child slavery:
Rescue and Legal Aid
NYF staff has been directly involved, going to homes where the girls are working and demanding their freedom in accordance with the law. NYF also files legal cases against the employers to protect the girls and provide them with just compensation.
Economic Solutions
NYF provided poor village families with goats and pigs to raise and sell, helping parents afford to keep their daughters at home. As villagers saw their neighbors' daughters returning home from Kamlari servitude and attending school, they wanted the same for their own children.
Education and Support
NYF offers comprehensive support to help the freed girls build a new life. NYF provides specialized education programs, clothing, nutritional support — even kerosene lamps so the girls can study at night.
Empowerment
NYF provides ongoing vocational and leadership training to build the girls' confidence and empower them to be self-sufficient and successful. With help from NYF, many formerly enslaved girls have formed cooperatives that create income-generating projects. Because the newly freed girls want a better life for all the girls of Nepal, they formed the Freed Kamlari Development Forum (FKDF). With training and financial support from NYF, the FKDF has organized marches and performed street theater in Kathmandu and across Western Nepal.
Political Change
Throughout the campaign, NYF kept up pressure on the government to enforce its own laws. In 2006, NYF won a Supreme Court decision that affirmed the ban on Kamlari slavery. In 2009, NYF's efforts helped cause the government to allocate scholarship funds to educate former Kamlari girls. In 2013, the government has declared an end to the Kamlari system.
NYF president, Som Paneru, says, "As the Kamlari system comes to an end, we thank our community partners in Nepal, our global nonprofit partners, our allies in the government, and especially you — the people around the world who have supported NYF through the years."
About the Nepal Youth Foundation
The mission of the Nepal Youth Foundation is to transform the lives of impoverished Nepali children by providing them with what should be every child's birthright – education, housing medical care, and loving support.
Founded in 1990 by Olga Murray, the foundation's 88-year-old honorary president, NYF has served more than 100,000 destitute Nepali children and their families.