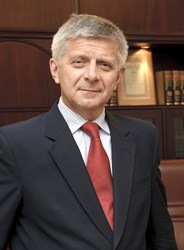 Washington, D.C. (PRWEB) October 15, 2013
The Group of Thirty today released "How Poland's EU Membership Helped Transform its Economy," by Marek Belka, President of the National Bank of Poland and former Polish Minister of Finance.
In this new paper, Belka looks at both Poland's integration process and the post-accession years. Belka concludes that Poland growth, stability, and competitiveness were fostered in large part by its membership in the EU.
"Next year will mark not only the 25th anniversary of the beginning of Poland transition to a market economy, but also the 10th anniversary of its EU accession. It is important to reflect on the EU's influence during Poland's transition as well as on the continued strength of the Polish economy," said Belka.
He continued: "Positive impacts on the Polish economy from membership in the EU can be seen in exports, both to EU countries and non-EU countries, FDI flows, GDP per capita, inflation rates, and overall GDP growth."
Jean-Claude Trichet, Chairman of the Group of Thirty, welcomed the paper. "We are pleased to add this exceptional paper to our Occasional Paper series. It is clear that Poland has made a remarkable transition. Marek Belka's comprehensive overview provides detailed insight into the impact of EU membership on Poland's economy."
PDFs of this paper are online at http://www.group30.org/publications.shtml, or via email at info(at)group30(dot)org. Hard copies are available for purchase.