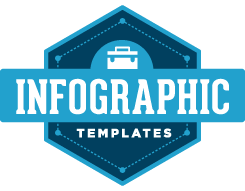 Infographictemplates.com levels the playing field for designers, business denizens and do-it-yourselfers alike," said Amy Balliett, Chief Swiss Army Knife and Co-CEO of Killer Infographics.
(PRWEB) October 11, 2013
Killer Infographics today announced the launch of its new site, Infographictemplates.com. The name says it all. Infographictemplates.com is a site dedicated to delivering high-quality, beautifully designed, easy to implement infographic templates at an affordable price. Infographictemplates.com leverages the design expertise and marketing know-how of the laudable team at Killer Infographics to create effective and eye-catching infographics that transform numbers, words, scenarios and processes into meaningful, shareable data visualizations without complexity or high costs. Designers, businesses and job hunters can download, customize and edit infographics in just minutes.
"Infographictemplates.com levels the playing field for designers, business denizens and do-it-yourselfers alike," said Amy Balliett, Chief Swiss Army Knife and Co-CEO of Killer Infographics. "Now everyone has the ability to create standard infographics to meet market demands with ease and affordability."
Infographictemplates.com is a suitable service for people or organizations who want to tell their story with charts, graphs, and icons and have already researched the data to pull the pieces all together into an infographic. Template solutions are also a great option for those working with little budget (like a new business, startup or non-profit) or the first time infographic user looking for proof of concept.
Though the site just launched, the buzz abounds about the benefits of Infographictemplates.com:
We needed to quickly produce a couple of great infographics to demonstrate our ideas to customers and VCs. With the templates Killer Infographics created for infographictemplates.com, we were able to go from a concept to wowed audiences in a couple of days and at low cost," said Przemek Pardyak Co-Founder, Usermind.
"I've run a graphic design school for the past 19 years, and we love to say that even when your budget is tight — even though there's a world full of crowdsourcing, off-shore logo factories, and slave-labor interns — there is absolutely no substitute for bringing in a professional designer and having them do custom work for each and every assignment. Now that I've seen what Killer Infographics has brought to infographictemplates.com, I'm going to be revising my story. It turns out you can get great infographics work, even when dollars and time are in short supply," said Larry Asher, owner of The School of Visual Concepts.
With Infographictemplates.com people will be able to:
Choose from 35 different templates. With Infogrpahictemplates.com users don't have to hide their data behind simple bullet points and bar graphs. They can jazz their information up by selecting from more than a dozen infographic templates as well as motion graphics (animated infographics) templates and a dozen icon packs, which feature the likes of tools, travel, environment, technology and ecommerce icons to name a few. And inventory will continue to grow.
Customize for the right look and feel. Infographictemplates.com designs are templates but not straight up cookie-cutter. Users can customize colors and adjust adaptable icons to graphs using any vector-editing software to fit their particular brand or style.
Build a better resume. With an infographic resume, candidates can track career progress using eye-catching colors and graphics that help the resume stand out from the crowd in a fiercely competitive job market.
Get awesome infographics at an awesome price. Pricing for standard license use of an Infographictemplates.com design ranges from $12 - $30, with separate purchase of icon packs going for $3 – $5, and design deals also available periodically.
To download a quality infographic template, visit http://infographictemplates.com.
About Killer Infographics
Located in Seattle's tech-savvy Fremont neighborhood, Killer Infographics is a boutique design agency supplying visual communication solutions for brands large and small, as well as the advertising and public relations agencies that serve them. Services include research, design and distribution for infographics, motion graphic (animated video), and interactive infographics. More than 250 global clients reconnect with their audience, grow their brands and build a fan base with the help of Killer Infographics. Since its boot-strapped start in October 2010, the agency has grown from 2 to 20 employees, and completed over 3,000 projects, with work featured in the Wall Street Journal, New York Times as well as online at Mashable.com, Geekwire.com, Fast Company, Forbes and more. For more information about Killer Infographics, visit http://www.killerinfographics.com.