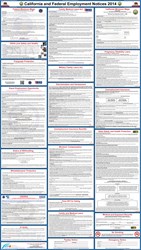 CAL OSHA is updating important issues in policy to keep employees safe and healthy on the job!
Brea, CA (PRWEB) October 11, 2013
New mandatory updates for CAL OSHA will go into effect on March 2014. The new revisions state that employees must abide by new policies enforcing safe and healthy work environments. New policies accommodate employee rights to file complaints and request inspection of workplaces with unsafe conditions. Employees are protected by OSHA and will not be fired or reprimanded for exercising their rights to a safe workplace.
State and Federal Poster, Inc. understands the importance of having the latest complete state and federal poster for California posted in a visible area of the workplace. This poster will help remind employees and employers of their rights and obligations to maintaining a safe, healthy work environment for everyone. Serious violations and penalties may occur for failure to comply with safety and health standards established by the state.