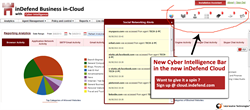 This will allow business owners to not only secure their data from theft just like any other endpoint security solution, but also help them understand and predict three core areas for smart business decisions
Kolkata, West Bengal (PRWEB) October 14, 2013
Data Resolve Technologies, an award winning company in the space of IT security, has announced today the launch of its Business Cyber Intelligence solution, inDefend Cyber Intelligence in-Cloud.
The newly launched solution has evolved from the initial endpoint security offering of the company called inDefend Endpoint Security which used a proprietary technology called Active EPS (Endpoint Security). The core technology of inDefend has now been upgraded with Business Cyber Intelligence to give an highly powerful tool to business owners and the management, which has never been available earlier for small & medium businesses.
What is Business Cyber Intelligence according to inDefend ?
According to the theory of inDefend, Business Cyber Intelligence could become a unique approach towards reducing the business risks of a company through intelligent analysis of the information flowing within and outside the company in four major areas:-
1. Job Searches – helps in predicting and controlling employee attrition
2. Entertainment and unproductive activities of the employees
3. Corporate Fraud and espionage detection
4. Data Security with highly granular policy based endpoint protection
The intelligence in the solution lies in the feature where the product aggregates all the malicious alerts generated in the network, and presents it to the business owner or the management in three ways:-
1. Social network style alerts
2. Daily email reports
3. Real-time SMS alerts (only for Indian customers now)
The solution also offers a services based on its product called CI (Cyber Intelligence) Reporting for the management which is created by manually analyzing the data collected over time and then compiling it in a comprehensive document which gives a report on the different business risk areas, using which the management can take appropriate actions to avoid such risks. A sample CI report can be downloaded here: indefend.com/downloads/ci-report.pdf.
The Product – inDefend Business Cyber Intelligence
The product was released under private beta almost a month back, and is now publicly available for use. A fourteen day free trial is available from the product website http://www.indefend.com and the product demo is available at demo.indefend.com.
"This will allow business owners to not only secure their data from theft just like any other endpoint security solution, but also help them understand and predict three core areas for smart business decisions – employees looking for immediate job change or employee attrition, productivity loss of employees and corporate fraud. And the best part is that the product is available both on cloud as well as in house enterprise server," Mr. Vikram Kumar, CEO of Data Resolve Technologies
inDefend Business currently contains 7 Cyber Intelligence sensors which can intercept and analyze unproductive activities of employees like social networking usage and pornographic access, and detect sensitive activities of employees like job searches, sensitive web searches, unauthorized USB storage drive usages, internet file uploads and emails with confidential attachments. inDefend Business is being continuously upgraded with more advanced CI sensors which are further strengthening the product's analytical capabilities.
Some of the recent users are referring to inDefend Cyber Intelligence as a surveillance camera for cyber-crimes. The company also published an article last month highlighting this perception. According to the article, the CI (or cyber intelligence) cameras can not only capture cybercrimes but also takes into accounts even the minute by minute activities going in your organization which might prove to be harmful immediately or in near future.