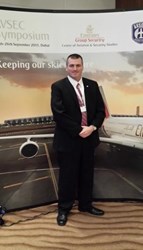 The symposium was a true success and we were pleased to have Global Elite Group be invited to participate and sponsor an event so well attended by industry experts.
New York, New York (PRWEB) October 11, 2013
Global Elite Group (GEG) sponsored the first annual Emirates Group Security Symposium, held last month in Dubai. Aviation security members from around the world gathered to discuss global issues and solutions facing international aviation security management. Speakers at the symposium included GEG executives: Ritchie Swain, Vice President of GEG-Middle East Operations and Joseph Scarano Jr., Law Enforcement & Government Liaison. "The symposium was a true success and we were pleased to have Global Elite Group be invited to participate and sponsor an event so well attended by industry experts," stated William McGuire, President and CEO of GEG.
The International AVSEC Symposium, organized by Emirates Group Security, focused on topics such as; Airport Security: The Human Factors, Cargo, Regulatory Compliance; Unruly Passengers: Tokyo Convention, Crew Response, Innovative Strategies and Hijack Management: Flight Deck Security, Extremist Terrorism. The event attracted industry professionals and product exhibitors from around the world. In the presentation by Ritchie Swain, attendees learned about crisis management during a hijacking, "Crisis management is all about having people and processes in place to manage an event that is out of the bounds of normality," Swain explained. Participants learned about how to handle and disseminate information when events are escalating rapidly. "There is a real loss of control, real or imagined during an emergency event. Understanding how to follow a process in order to serve all who are affected in an emergency is critical."
During the 3-day event, Joseph Scarano Jr., conveyed real-life experience at the symposium when he discussed his law enforcement response and experience with the National Airlines Hijacking in July 2000 at JFK Airport, New York. Prior to joining GEG, Scarano had a 26-year career with the Port Authority of New York & New Jersey rising to First Commanding Officer at JFK Airport. Scarano discussed the events that transpired that day, the actions law enforcement took, the outcome and lessons learned. "Understanding the motives behind a hijacking and future prevention is an essential tool to success," Scarano stated.
GEG commends all the participants who made the AVESCO Symposium a success; Emirates Group Security and Edith Cowan University (WA) on gathering the aviation security industry's most knowledgeable speakers to discuss these important topics.
About Global Elite Group: With offices located throughout the world, the company provides security and emergency management services for companies of all sizes and is known for its emergency contingency planning in all markets and its aviation security programs for over 28 airlines located in the U.S. and abroad. The company is always expanding service offerings to compliment the security needs of individuals, companies, high profile travelers and events. The company is TSA certified to provide screenings to individuals and groups. Global Elite Group is a full-service event security management company with security details available for deployment to cover small venues to large-scale multi location events. Other services include risk assessments and asset protection.