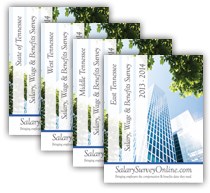 Wages are always an important topic for employees and employers. The data in our survey will serve as a great resource for both in the upcoming year.
Knoxville, TN (PRWEB) October 16, 2013
As the government shutdown continues and the battle to raise the minimum wage persists across the country, a new report of Tennessee salaries shows compensation and wages have a projected merit increase of 2.8%. The results are offered in the fifth edition of The State of Tennessee Salary, Wage and Benefits Survey for 2013-2014, now available from the human resources firm, Effective Resources Inc. The survey data was collected from August 1, 2013 through August 31, 2013, with 119 employers participating.
The thorough survey featured a range of information on employment, including merit increases, employee turnover, salary ranges and more. The survey was compiled using SalarySurveyOnline.com, an online data collection and reporting system. Surveys were compiled throughout East, Middle, West Tennessee as well as a statewide summary. 349 positions were surveyed for 17 sectors: Baking, Finance, Government/Education, Healthcare, Hospitality, Manufacturing and Distribution, Sales, Services and other industry groups. The data collected represented 330 jobs with data broken down into easy categories such as Industry, Region, Company Size by Sales/Assets. The result is a report anyone can read and interpret.
With the country's unemployment rate around 7.4%, the survey shows that Tennessee's 8.4% unemployment rate is higher than the national rate. Turnover in the state is reported at 1.7% which compares favorably with the national rate of 3.0%. However, it must be noted that the national average data included workers who gave up a job search, whereas the survey conducted by Effective Resources Inc only received data from employers.
Of interest to all currently is the Affordable Care Act (ACA) and employee benefits. The survey examined the costs of medical insurance premiums and the findings include data that 81.5% of employers are reporting medical insurance premium rate increases of only 10% or less, while 18.5% had increases of 11% or more. The report also showed employee average annual out-of-pocket expenses for both individual and family insurance with increases of 7.8% and 19.2%, respectively, compared to last year.
"Wages are always an important topic for employees and employers. The data in our survey will serve as a great resource for both in the upcoming year," stated Barry Brown, President of Effective Resources Inc.
Celebrating 20 years in business in 2013, Effective Resources, Inc. is a leading human resources consulting firm specializing providing companies assistance with compensation issues, affirmative action plan preparation, salary surveys, employee opinions surveys as well as other areas of human resources.
To learn more about this survey, please visit http://www.SalarySurveyOnline.com and http://www.EffectiveResources.com for more information.