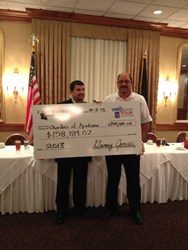 The Open is a great way to help fund these charities to continue their good work; Danny Jones, Executive Director of Chitimacha Louisiana Open.
Charenton, Louisiana (PRWEB) October 10, 2013
The self-proclaimed "most important day of the year" for the Chitimacha Louisiana Open took place at the Petroleum Club in Lafayette on October 2, 2013 where tournament officials and Chitimacha Tribal Chairman, John Darden, presented local and regional charitable organizations and youth groups with over $158,000 in contributions.
PGA Tour's Web.com Tour event celebrated their 22nd annual Open at Le Triomphe in Broussard, LA. The Chitimacha Louisiana Open has contributed over $2 million over the past decade to local and regional charities and over $4.2 million since its inception. "Given the rocky economy, the contributions are quite good. However, would like to get back where we were only a few short years ago where we were donating a quarter-million dollars each year," stated Danny Jones, Open Executive Director.
Chitimacha Louisiana Open continues to grow even with the recent economic downturn. The group's primary goal is to raise as many charity dollars as possible to make a positive impact on the community. The Open awarded over $152,000 last year to 50 groups, so this year's total is an increase over 2012 and it is a welcomed contribution to many local and regional charities. "All of these charities are working and generating their own funds so it's not like we're just giving them a check. The Open is a great way to help fund these charities to continue their good work," commented Jones. "We have incredible volunteers who make the Open possible and most of these groups were involved in the staging of the tournament in some capacity," Jones continued.
The Chitimacha Louisiana Open and Web.com Tour have officially wrapped up the first year of their multi-year partnership. "We got to see the impact of our new partnership with Web.com and the difference we're making," stated Jones after he and Tribal Chairman, John Darden, distributed checks from the Open and other events conducted during the year.
Groups wishing to get involved may contact the Louisiana Open office at (337) 593-8000.
Become a fan on Facebook!