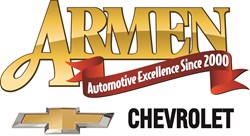 Ardmore, PA (PRWEB) October 14, 2013
Armen Chevrolet is conducting a test-drive event to support Merion Fire Company of Ardmore in Ardmore. Community members are invited to visit 41 Greenfield Ave. Ardmore, PA on October 19, 2013 to test-drive a Chevrolet vehicle.
For every test-drive that is completed, Merion Fire Company of Ardmore will receive a $20 donation from Armen Chevrolet. Each person who completes a test-drive will also receive a free t-shirt.
"Merion Fire Company of Ardmore plays a crucial role in our community, and we are honored to give back. We hope to help raise money to upgrade their facilities and equipment or to provide new training," says Tod Gomer, Vice President for Armen Chevrolet.
Here are details of the test-drive event:
Armen Chevrolet Service Department (Directly next door to the Merion Fire Company)
41 Greenfield Ave Ardmore, PA 19003
October 19, 2013
9:00am -11:30am
About Armen Chevrolet
Armen Chevrolet is a family owned automobile dealership and has been open since January 2000. Located in Ardmore, Pennsylvania the Armen Organization has been serving Delaware Valley Chevrolet drivers with new and used cars, trucks and SUVs for almost 14 years. Known for our quality service and sales professionals, Armen prides himself on having an outstanding reputation in the community. More information can be found at http://www.Armencars.com.
About Chevrolet
Founded in 1911 in Detroit, Chevrolet is now one of the world's largest car brands, doing business in more than 140 countries and selling more than 4 million cars and trucks a year. Chevrolet provides customers with fuel-efficient vehicles that feature spirited performance, expressive design, and high quality. More information on Chevrolet models can be found at http://www.chevrolet.com.