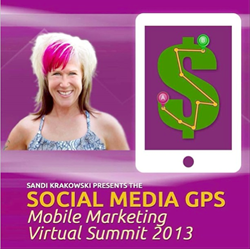 Warsaw, IN (PRWEB) October 12, 2013
If Facebook were a country, it would be the largest in the world. With 78% of its users on a mobile device and Apple currently selling over 9 million new iPhones in just one weekend, the mobile marketing platform has never been bigger.
Sandi Krakowski, featured by CNBC and Forbes Magazine as one of the top 20 Social Media Influencers, will be sharing how social media marketing led her to be the hands and mind behind several national multi-billion dollar brands. Krakowski will host the event, The Social Media Mobile Marketing GPS Virtual Summit, live from her TV studio.
Krakowski will be teaching successful social media strategies to build a bigger brand for large and small companies, as well as how to utilize the mobile market to turn passions into profits.
"During the last 18 months I've not only built a platform of more than 271,000 people on my Facebook page who are engaged, having relationship with us and purchasing our products, but we've added more than 600,000 people to our entire social media platform!" states Krakowski.
Krakowski has recently reported that nearly 40% of all traffic to her website and social media accounts come from users on mobile devices. This number is continually growing and has been an indicator to Krakowski where the market is headed. She will be sharing her insights at her event on October 26, 2013.
Anyone who is serious about taking his or her business to the next level should attend this event. Tickets are being sold now.
About Sandi Krakowski- Voted Forbes Top 50 Social Media Power Influencer, Top 20 Women Social Media Influencer & is a Digital Media Marketing Expert. She is the CEO & Founder of both A Real Change International, Inc and A Real Change Media. Her systems help small business owners and big corporations utilize the online space and social media for brand awareness, company growth and client loyalty. Sandi has been married to Alan Krakowski for 21 years, is a proud mom to Jeremy, Justin and Bobby and has a favorite dog named Kobe and a ragdoll cat named Latte.