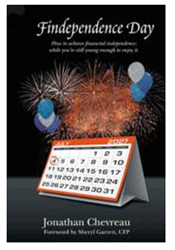 Bloomington, IN (PRWEB) October 12, 2013
In the financial love story, "Findependence Day," by Jonathan Chevreau, young American couple Jamie and Sheena are featured on a financial reality TV show after finding themselves hopelessly in debt. The tension rises when unexpected life events get in the way.
The book follows the couple over 22 years, addressing the problems many couples face in regard to money including:

Buying homes and raising children
Job loss and retirement
Investments and debt
Chevreau wants readers to understand that financial independence is a much more achievable goal than retirement. He weaves the major financial concepts into the text so seamlessly, the reader is barely distracted from the fast-moving plot. Even so, if readers take the financial lessons to heart and implement them -- these are conveniently summarized at the end of each chapter -- they would be able to achieve financial independence while they're still young enough to enjoy it.
Finally, a personal finance book that is entertaining as well as informative. Findependence Day gives the reader a clear reality check, along with the tools to reach financial independence.