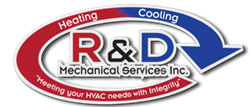 Canton, GA (PRWEB) October 12, 2013
R and D Mechanical Services, Inc is a leading name in North Metro Atlanta known for quality workmanship and installation of cooling and heating systems. Whether your home or business has a gas furnace or a heat pump, these HVAC systems require regular maintenance to get the top performance and longest life from the HVAC system. As the days will start getting cooler in Georgia, now is the time to have routine inspections and maintenance done. Matiak states, "By having your heating unit properly serviced throughout the year it will improve the life of the system and help to conserve energy. This can in turn reduce total heating expense, bringing down utility costs. Our new HVAC Maintenance Program is designed to keep our customers warm in the winter and cool in the summer and keep more green in their customers pockets."
Benefits of Comprehensive System Maintenance:
Peace of Mind, Safe Operation and Automatic Regular Scheduled Inspections
Preferred Service Scheduling
Potential Problems Identified and Brought to your Attention
Lower Energy Bills
Extended Equipment Life
Reduced Repair Cost and Equipment Failures
Agreement is Transferrable if you Sale your Home
Increased Labor Warranty on all Repairs
10% Discount on all Repairs Completed
Gas Heating System Maintenance Includes:
Test Thermostat Operation
Check Automatic Controls
Check Wiring for Loose Connections
Check Primary Voltage
Check Secondary Voltage
Clean Burners
Test all Operating Limits & Safeties
Lubricate as Needed
Check Carbon Monoxide Levels
Inspect Hot Surface Igniter
Clean Flame Sensor
Check Operation of Induced Draft Motor
Inspect Heat Exchanger
Check Gas Valve Operation
Inspect Flue Condition
Inspect Blower Door Safety Switch
Clean Blower Motor if required
Furnish and Replace 1" Pleated Filter
Test system Operation - Heating Mode
Top Rated Gas furnaces means that 95 to 98.5 percent of the fuel being used warms the home while the remaining low percentage escapes as combustion gases. This thermal efficiency rating is referred to as AFUE or Annual Fuel Utilization Efficiency. "Some older furnaces may only use 65 percent of the fuel to heat the home wasting the remaining percentage. This fuel cost can add up and is not smart environmentally. They are some repairs that may be done and insulation could be added. However, if the furnace is more than 20 years old, it might be wise to consider a replacement unit," adds Robbie Matiak (Owner).
Good News:
Tax Credits are currently available to homeowners from the federal government for the purchase and installation of a high-efficiency heating unit that is placed in service prior to 12-13-2013.
Facts about R and D Mechanical Services:
Family Owned and Operated
Residential and Commercial HVAC Contractor
Financing Available
Always Approach Each Job with Honesty and Integrity
If you would like to learn more about R and D Mechanical Services, please visit their website at http://www.randdmechanical.net.