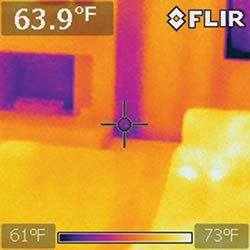 Your energy bill is our priority, so we offer our homeowners, like you, remedies on excessively high energy and utility bills."
Clearwater, Florida (PRWEB) October 31, 2013
Every day, homes and commercial property in Coastal Florida are losing money due to insulation and air leaks that make A/C systems less efficient. Chris Webber, owner of Absolute Air Conditioning and Heating is putting advanced thermal technology to work to identify and repair those costly leaks. As one of Clearwater's Certified Energy Audit professionals, Chris and his expert crew are one of only a few companies that utilize advanced thermal imaging technology to scan the entire building envelop to detect the places where A/C Systems lose efficiency.
A thermal imaging system uses sensors that detect infrared radiation and display a colored image showing the density of hot and cold areas. Differences in air temperature, displayed as dark or bright colors, easily show places where air from inside is leaking out and making the A/C work harder than necessary.
Thermal imaging is just one method the professionals at Absolute Air employ to protect your peace of mind. Indoor air quality is rapidly becoming a major issue in the Sunshine State and Absolute is once again an industry leader with new tech to protect the air you breathe. UV lights installed in HVAC systems sterilize incoming air to kill bacteria, molds and allergens. Its technology that lets home owners and professionals breathe easier and keep their indoor air cleaner.
As A/C units age, they often start to extract a high price with excessive energy costs to operate. Absolute Air Conditioning and Heating is on a mission to rescue Clearwater residents with affordable repairs, or rebates and savings on new super energy-efficient air conditioning systems. New installation specials feature $500 dealer rebates and up to $300 in Federal rebates. New A/C units feature a ten year warranty and every installation includes thermal scanning of ductwork to ensure property owners get the most efficient cooling in Clearwater.
For 18 years Chris Webber and his expert staff at Absolute Air Conditioning and Heating have worked hard to earn their place as Clearwater's first choice for high efficiency air conditioning, indoor air quality and insulation solutions. Licensed, bonded and EPA certified, they make offering each customer the newest and best technology a priority. Chris always says, "Your energy bill is our priority, so we offer our homeowners, like you, remedies on excessively high energy and utility bills." Absolute puts technology to work so Clearwater residents keep cool, breathe easy and spend much less for their comfort.
If homeowners and businesses would like to be informed by what an energy audit can reveal, Absolute Air Conditioning and Heating welcomes all inquiries. Owner, Chris Webber is also available to answer any technical questions or provide interviews for any news and media outlets interested in helping consumers save money and lower environmental impacts.
If you would like a chance to experience the expert service of Absolute Air Conditioning & Heating, they offer a Free Energy Audit and Free Service Call for repairs over $75.
For media engagements, please contact the P3 Agency at 1-800-515-9422
Chris Webber
Absolute Air Conditioning and Heating
(727) 743-3742
2146 Sunnydale Blvd. Suite E
Clearwater, FL 33765