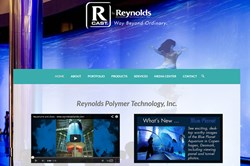 Grand Junction, CO (PRWEB) October 12, 2013
Reynolds Polymer Technology, Inc., the world's foremost acrylic panel manufacturer, is pleased to announce the official launch of their newly designed website at http://www.reynoldspolymer.com. Released after the success of the beta version, RPT's advanced online home includes a variety of features and a large selection of rich product imagery.
The improved site was designed with a contemporary look and emphasizes RPT's expansive portfolio, which is unequalled among other manufacturers in the industry. The projects showcased are among the most remarkable from over 1600 custom works that have been completed since the company's incorporation in 1987. The portfolio is also subdivided into image galleries by panel and industry type for users who wish to browse for a particular type of project.
"We wanted to showcase what we are capable of and the amazing work we have done for our customers over the last three decades," said Scott Sullivan, President of Reynolds Polymer Technology. "The new site shows potential clients what we can do for them. Our products and services are identified and defined. The overall message is that RPT is a truly invaluable resource for architects, designers, and developers all over the world."
Other key features of the new site include more efficient navigation options, a streamlined contact menu, and free media downloads for the public. RPT has also developed a comprehensive news section and produced videos that showcase the creation and manufacturing process undertaken on renowned RPT projects. A mobile version of the site will be released in the next few weeks.
All are welcome to visit the site and download a free desktop background at:
http://www.reynoldspolymer.com/page.cfm?pageid=Desktop-Wallpapers.