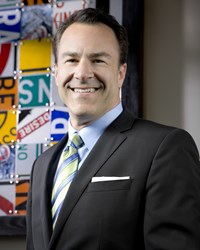 There is no reason for these accidents to keep happening. My heart and condolences go out to the victims and their families in these incidents; this should never have happened to them.
Detroit, MI (PRWEB) October 11, 2013
Bicycle Attorney Jason Waechter has a message for drivers: "Please, be on the lookout for bicyclists out there. They're vulnerable when they're riding and they need our help to stay safe." Waechter's comments come in response to several news reports in the last few weeks about cyclists killed by motor vehicles.
Most recently, the Detroit Free Press is reporting that a cyclist in the Detroit area was killed Tuesday night in a hit-and-run incident. According to the report, police are looking for a dark SUV who hit a cyclist in SW Detroit around 9 p.m., dragging him for several blocks before he came loose near Michigan Avenue and Junction Road. The cyclist was pronounced dead at the scene.
In another local cycling tragedy, freep.com reports that 8-year-old Darrin Wilhite was killed in a hit-and-run crash with an SUV on September 27. In that case, the driver hit the child and drove away, dragging Darrin an entire block, and his bicycle for nearly six blocks, before speeding off. The driver later turned himself in and gave a full confession.
Several international media outlets also reported last week on the death of Amy Dombroski, a 26-year-old American cyclocross racer hit by a truck and killed while on a training ride in Belgium on October 3. Police are investigating that incident but say the driver of the truck was not intoxicated at the time of the crash.
Waechter and fellow Attorney Sean Murphy are known within the Metro-Detroit cycling community for their bicycle accident prevention campaign slogan "Our Lane Too", which reminds drivers to share the road. Over the last 20 years, Waechter has been helping bicycle crash victims and their families, and has developed a referral network with the best bicycle attorneys across the country to ensure that no matter where the crash happened, victims and families can access the very best legal representation available.
"It's time for all drivers to start watching more carefully for cyclists," says Waechter. "There is no reason for these accidents to keep happening. My heart and condolences go out to the victims and their families in these incidents; this should never have happened to them."
###
Attorneys Jason Waechter and Sean Murphy are Michigan attorneys specializing in the area of bicycle accident and personal injury litigation. Waechter's firm has collected millions of dollard in settlements, awards and verdicts for his clients over the past 20 years. As well as contributing significantly to safety education and accident prevention. For more information visit their website at http://www.bicycleaccidentlawyersusa.com