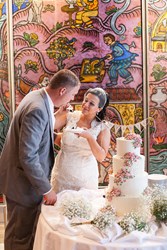 Our wedding cake by Celebrity Cake Studio was amazing and delicious. It was exactly what we wanted.
Tacoma, WA (PRWEB) October 21, 2013
Whether they're trying to find the wedding dress salon with the best service in Philadelphia, the most creative wedding photographers in Los Angeles, New York's top cake bakers or Miami's hottest reception sites, engaged couples across the country want the inside scoop from real brides. The Knot Wedding Network, which is composed of the top two wedding websites, TheKnot.com and WeddingChannel.com, today announces the first-of-its-kind wedding industry Hall of Fame for the all-time best wedding vendors across the United States.
Comprised of winners of the annual Best of Weddings, a by-brides-for-brides guide to the top wedding vendors in 80-plus cities across the U.S., the Hall of Fame inducts wedding vendors who have won four or more Best of Weddings awards. This honorable list of 331 inductees includes less than 2 percent of wedding professionals.
Included in this list is Celebrity Cake Studio, one of a select few in Seattle/Tacoma area. Celebrity Cake Studio is located in Tacoma's Dome District, specializes in wedding and special occasion cakes. The company has been voted Best Cakes in Western Washington for many years in a row for its delicious and beautifully designed cakes and desserts.
Celebrity Cake Studio is thrilled to have been named as a Hall of Fame honoree. "We would like to thank our past clients for taking the time to review our business on The Knot Wedding Network; it means so much to us and our business to have received such tremendous feedback over four years. We are dedicated to providing excellent service to all of our clients and look forward to helping future brides plan their perfect day."
"For the past seven years, our reviews have been the definitive resource for our brides, providing them with unparalleled vendor recommendations directly from the tried-and-true experiences of fellow brides," said Carley Roney, cofounder of TheKnot.com. "We're beyond thrilled to induct our first-ever Hall of Fame, crowning the best of the best across the country, based on more than 725,000 reviews from real brides."
About Celebrity Cake Studio
Celebrity Cake Studio is a boutique cake shop that specializes in artistically designed wedding and occasion cakes. It is family owned and operated by Odette D'Aniello and Mary Ann Quitugua.
The sisters are third generation bakery owners who literally grew up in a bakery and often joke that instead of a silver spoon, they were born with a silver spatula in hand. It is with this expertise and their love for the craft of cake decorating that Odette and Mary Ann opened their first retail bakery in 1999 in Lacey, Wa. In 2004, the family purchased The Cake Studio, Tacoma's premier cake boutique. The two stores consolidated to become what is now Celebrity Cake Studio.
Retaining the best of both shops, Celebrity Cake Studio has customers raving about its delicious made-from-scratch products, attentive customer service and beautifully designed made-to-order cakes. It is now the most highly recommended cake shop in South Puget Sound and has consistently been voted Best Cakes in Western Washington.