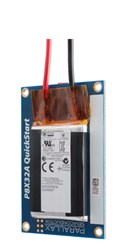 Polyonics builds on the superior properties of polyimide to offer its OEM and converter customers the broadest range of high performance polyimide tapes on the market.
Westmoreland, NH USA (PRWEB) November 05, 2013
Polyimide maintains its exceptional physical, electrical and mechanical properties over a wide temperature range. This makes it the material of choice for high temperature masking and bonding tape applications. Polyonics builds on these superior properties to offer a greatly expanded portfolio of high temperature polyimide tapes that include a wide range of masking versions as well as bonding tapes that eliminate the need for mechanical fasteners in complex assemblies.
This new generation of single and double coated tapes includes antistatic and static dissipative versions that help protect static sensitive devices from ESD events along with halogen free flame retardant versions that prevent the propagation of fire. In addition, Polyonics offers a unique family of high opacity antistatic black tapes that block and/or scatter light. All tapes provide high dielectric, tensile and flexural strengths, excellent chemical resistance and increased dimensional stability over wider ranges of operational temperatures.
Polyonics engineered tapes are REACH and RoHS compliant and include liners for ease of handling and die cutting. A variety of pressure sensitive adhesives (PSA) and liner choices are offered to best suit each die cut process with custom constructions also readily available.
The Polyonics line of amber, black and black top coated polyimide (PI) tapes include 13, 25 and 50 µm films along with 125 µm amber films. The unique black coated amber polyimide tapes provides the same high opacity (100%) of solid black PI, but with differing gloss values (2 vs. 20 GU) and lower price points. The level of gloss helps in applications where the magnitude and direction of light reflection needs to be carefully controlled. The black coated versions maintain all of polyimide's physical and electrical properties while adding static dissipative features to help protect static sensitive components and devices.
Polyonics chooses the best PI for each application and combines it with its own formulated acrylic and silicone PSAs. Acrylic PSAs offer the best price points and have relatively high temperature ranges (-40C to 300C) and adhesive strengths (>27oz/in). Low surface energy acrylic PSAs have higher adhesive strengths (up to 150 oz/in) and are specifically formulated for a wide range of polymers, polycarbonates, FR4 glass/epoxy PCBs, plastics and glass. Tight or clean removable antistatic acrylic and silicone PSAs are available for masking applications as are acrylic and silicone (SI) flame retardant PSAs. Both clear and white SI PSAs are offered for very high temperature applications (<500C).
About Polyonics
Polyonics manufactures high performance single and double coated tapes, label materials, films and flexible substrates in its Westmoreland, NH factory. The high quality materials are used by specialty die-cut converters and OEMs worldwide. The ultra-thin polyimide, PET and aluminum materials are designed expressly for high temperatures and harsh environments plus provide flame retardant and static dissipative performances for electronic, automobile, aerospace and medical components.
For more information, please contact Dave Genest at 603.903.6327 or tape.expert(at)polyonics(dot)com.