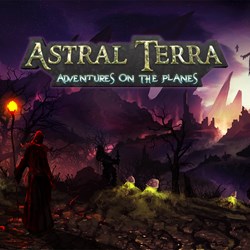 Indianapolis, IN (PRWEB) November 06, 2013
Tethys Interactive announces its Kickstarter campaign for the smooth voxel-based fantasy-themed open-world sandbox RPG, Astral Terra. The US Midwest-based indie game studio will allow players early Alpha and Beta access through their crowd-funding campaign, with several reward tiers and options to choose from.
Astral Terra utilizes an advanced voxel-based game engine that allows players to shape the world around them, in real-time, all while exploring, questing, building, digging, creating, and so much more. The game has been described as a Minecraft, Dungeons and Dragons, and DayZ hybrid since it takes the best elements of sandbox, fantasy, and survival, and combines them into one game. Astral Terra was built with Unity and will be released on PC, Mac, and Linux, as well as being distributed on Steam if the Greenlight campaign succeeds. Campaign stretch goals, if met, will also allow for Xbox One, PlayStation 4, and other platforms for release.
Core Game Features:
-Dynamically Generated Worlds – With a robust modern smooth voxel system, the 7 worlds are generated on the fly every time a player starts a new game.
-Customized Playstyle - No starting Archetypes – just pick a race (The Fey, Dark Elf or Human) and start shaping the world. Characters grows based on in-game actions and discoveries.
-Discovery and Adventure – Unlock the mysteries of the world through exploration and discovery. With the infinitely generating procedural voxel world, the only limit to journeys in Astral Terra is the player's imagination.
-Mining and Crafting – Gather ingredients and resources from combat drops or from mining resources to build new items, recipes, and prefab structures. The in-depth crafting system will have hundreds of weapons, armor and other items to craft with all of the various resources to be found.
-Building and Sculpting – Create or carve any shape with the flexible voxel system – clay like blobs, cubes, spheres, octagons, diamonds and every other shape imaginable. Pre-fabricated items are also available for quick building/crafting.
-Combat and Looting – Dynamic MOB system that gives players the option to both fight and befriend monsters. No gameplay experience is ever the same with the ever-changing dynamically generated environments of Astral Terra.
-Skills and XP – Gain XP through combat and exploration. Players choose skills and develop through the game based on the type of character desired. Unlock powerful spells, divine priestly abilities or become a skilled melee warrior - actions and discovery determine progression, not boring menu options.
-Solo & Multiplayer Options -
**Invite Friends – Have friends join a hosted world and check out epic castles and underground fortresses - or make something completely unique!
**In-Game Server Browser – Check out what other players are up to and join in on public worlds. Players can filter search results and find the right game to make friends and forge alliances across the planes of Astral Terra.
**Persistent Progression– Across all servers, game worlds, planes and everything, characters maintain their progression and growth. No need to make a new character each time a new world is created. This way, the adventures truly never end!
Kickstarter campaigns operate under an "all-or-nothing" funding model, so if Astral Terra doesn't reach its goal of at least $52,000 at the end of 40 days (date) then Tethys Interactive will not receive any funds from the project. Be sure to follow the developers on Twitter (@AstralTerra) and Facebook to stay up to date on the game's progress. Consider donating as little as $1 to help the project come to life. If backers decide to donate more, different reward tier options are available. The higher the funding amount goes, the more features Astral Terra will have and the better the game will be.
Q&As and Previews -
In addition to the funding request via Kickstarter, Tethys Interactive and Valkyrie PR are now accepting email-based Q&A interviews for coverage, as well as taking preview build requests. Preview builds will not be ready until next week, but the team wants to get an idea of how many people will be interested. If press are interested in playing ASAP, let PR know here - david (at) valkyriepr (dot) com. Remember - the game is in PRE-ALPHA status for all preview purposes and is far from finished. Recording and streaming will be allowed but press will not be allowed to share the build or distribute it to anyone. All previews must clearly state in writing, titling and audibly (if video) that it is in PRE-ALPHA.
Full Press Kit with all Assets: http://astralterra.com/press/.
Support Astral Terra on Kickstarter here: http://kck.st/1aplBDs.
Vote for us on Steam Greenlight here: http://steamcommunity.com/sharedfiles/filedetails/?id=191913279.
---
About Tethys Interactive
Tethys Interactive is a small Indie studio located in Fishers, Indiana formed in 2011 by Chris and Amy Wightman. The studio has successfully developed interactive presentations and games for local companies throughout the state of Indiana with the focus more recently shifting to their true passion of developing, and releasing self-published indie games. The first 2 public releases were fun and casual games for the mobile market(latest was Robot Kitten Balloon Assault on Google Play). Astral Terra has been in development for 6 months. Tethys is an active IGDA member and has been very involved with the local Indianapolis chapter. Chris and Amy were both on the local IGDA board in 2012.
About Valkyrie PR
Founded in 2013, Valkyrie PR is a recently formed independent studio created to offer indie developers professional-grade and personalized PR, marketing and business services. With over 12 years of combined experience, David Jagneaux, Gary Swaby and Richard Bailey make-up Valkyrie and aim to promote independent studios and games across all platforms. For more information, please visit: http://www.valkyriepr.com.