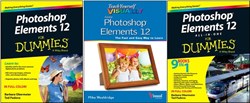 Indianapolis, IN (PRWEB) October 14, 2013
John Wiley and Sons, Inc. is bringing to market a series of new instructional books on Adobe's latest consumer-level photo editing software, Photoshop Elements 12. Three new books are publishing to help get users up to speed on the newly designed software including:

These new books will guide readers through the important new features of Photoshop Elements 12 including importing photos from digital cameras and scanners, retouching and repairing damaged photos, enhancing digital images, changing print size, canvas size, and resolution, editing images for posting on the Web, incorporating graphics into desktop publishing programs, and more.
Wiley's new Photoshop Elements 12 books are available for purchase online and at retailers nationwide in both print and all e-book formats.
About Wiley
Wiley is a global provider of content-enabled solutions that improve outcomes in research, education, and professional practice. Wiley's Professional Development business creates products and services that help customers become more effective in the workplace and achieve career success. It brings to life the ideas and best practices of thought leaders in business, finance, accounting, workplace learning, management, leadership, technology, behavioral health, engineering/architecture, and education to serve these communities worldwide.
Founded in 1807, John Wiley & Sons, Inc. (NYSE: JWa, JWb), has been a valued source of information and understanding for more than 200 years, helping people around the world meet their needs and fulfill their aspirations. Wiley and its acquired companies have published the works of more than 450 Nobel laureates in all categories: Literature, Economics, Physiology or Medicine, Physics, Chemistry, and Peace. Wiley's global headquarters are located in Hoboken, New Jersey, with operations in the U.S., Europe, Asia, Canada, and Australia. The Company's website can be accessed at http://www.wiley.com.
###