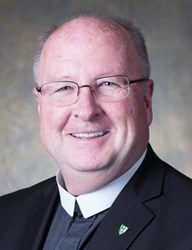 Riverdale, NY (PRWEB) October 15, 2013
Brother Jack Curran '80, FSC, Ph.D., a longtime member of the Manhattan College community, and most recently, vice president for development at Bethlehem University in the Holy Land, returns to the College this month as the new vice president for mission.
"It's great to once again be 'at home' as a Jasper in Riverdale — and to be a part of this academic community which, together with the alumni and trustees, brings to life the uniquely vital and exciting Lasallian Catholic mission at Manhattan College," Br. Jack said.
As the first alumnus to hold this position, Br. Jack is charged to assist the College community as they develop and expand new and existing programs to further promote Manhattan College's mission and its Lasallian Catholic identity.
For the last 16 years, Br. Jack served in senior administrative roles at two other Lasallian higher education institutions. At Bethlehem University, he established the Student Ambassadors program and the Alumni Relations office, as he oversaw its first capital campaign. As the vice president for student affairs at Saint Mary's College of California for six years, he assisted in establishing the Catholic Institute for Lasallian Social Action (CILSA) to encourage a culture of service and social justice education.
Throughout his more than 30-year career in education, Br. Jack has researched and published various works concerning the relationship between human rights and religion based on empirical data involving Muslim and Christian adolescents and young adults. He is also part of an international comparative human rights and religion project developed through Radbound University, The Netherlands.
Hailing from the La Salle Institute in Troy, N.Y., Br. Jack enrolled in Manhattan College in 1976, was inducted into Phi Beta Kappa, and graduated summa cum laude. He entered the Brothers of the Christian Schools in 1979, and went on to earn his master's and doctorate in social work from the State University of New York at Albany. During the 1990s, he worked at Manhattan College as an admissions representative, resident director, and assistant director of counseling and health, and also served as acting director of the department for one year.
In addition to his other roles, Br. Jack has worked as a mathematics teacher at St. Raymond High School and Good Shepherd Elementary School, as a coordinator of religious education, and as vocation director for the New York Province of the De La Salle Christian Brothers.
"Br. Jack brings to the position of vice president for mission a wealth of experience and an understanding of the opportunities and challenges of promoting Lasallian mission in the context of higher education," said Brennan O'Donnell, president of the College. "He is known as a dynamic and engaging administrator and a powerful spokesman for Lasallian values and Lasallian education."
###
About Manhattan College:
Manhattan College is located at West 242nd Street near Broadway in the Riverdale section of the Bronx, one mile from the Westchester County line and accessible by MTA subway line No. 1. For directions to the campus, visit http://www.manhattan.edu.
Founded in 1853, Manhattan College is an independent, Lasallian Catholic, coeducational institution of higher learning offering more than 40 major programs of undergraduate study in the areas of arts, business, education and health, engineering and science, along with continuing and professional studies, and a graduate division. For more information about Manhattan College, visit http://www.manhattan.edu.