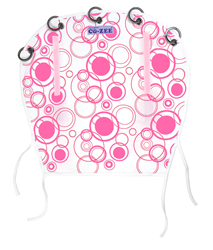 Las Vegas, NV (PRWEB) October 15, 2013
Today CO-ZEE announced its new line of protective covers for strollers, infant car seats and bassinets that protect babies from sunlight and wind to keep them safe and comfortable. Unlike alternatives such as coats or loose blankets that can fall off or prevent proper ventilation, CO-ZEE clips securely to the canopy and easily rolls up and down, giving parents control of how much shade and protection their baby needs.
A recent winner of the Kind + Jugend Innovation Award 2013 for the Dooky Buggy Bar under the Moving and Travelling Baby Accessories category, CO-ZEE (also known as Dooky in Europe where the brand originated) will be on display at The ABC Kids Expo, October 15 - 18, 2013 in Las Vegas, NV at Booth # 2729.
Its convenience allows parents to keep an eye on their baby without having to remove the stroller cover. CO-ZEE will also stay in place even on windy days since its secure position on the stroller's canopy keeps it from shifting around (unlike jackets or blankets).
CO-ZEE goes further to help protect children from sudden infant death syndrome (SIDS) by keeping them well-ventilated even with CO-ZEE fully rolled down.  According to the World Health Organization, approximately 25% of the 6000 SIDS deaths that occur each year are caused by overheating. Overheating can certainly occur in a stroller or car seat when the baby is covered in an unsafe manner, such as with a jacket or a blanket. CO-ZEE is made of breathable cotton to ensure proper ventilation.
CO-ZEE Basic (solid-colored): $24.99
CO-ZEE Design (patterned): $29.99 

Blocks light, wind, sun, noise and other surrounding influences
Universal: fits all brands of strollers, infant car seats and bassinets
Easily adjustable in height with Velcro strips
Provides 40+ SPF
Available in the following colors and designs :
o Patterned: black circles and crème, aqua circles and aqua, pink circles and pink, ladybug and black
o Solid: black, grey, crème, aqua, pink

CO-ZEE is currently available for purchase at Amazon, MacroBaby, and http://www.co-zee.com. GCS Ideas is the exclusive U.S. distributor of CO-ZEE products.
ABOUT CO-ZEE
CO-ZEE BV is a manufacturer of innovative baby and kids products with product lines that include original stroller and car seat covers, blankets and other smart baby gear accessories. Run by a dynamic and enthusiastic team of people, CO-ZEE (also known as Dooky in Europe where the brand originated) is focused on delivering fun, well-designed and functional trends to the juvenile market that keep the child's comfort and safety in mind as well as the parent's needs for peace of mind.
With a distribution network covering over 30 countries, CO-ZEE is excited to introduce its brand in the US. As a proud member of the Vereniging voor het Baby- en Kleutervak, the Dutch association of manufacturers for the baby and kids industry, the Dooky Buggy Bar was recently the winner of the coveted Kind + Jugend Innovation Award 2013 in the Moving & Travelling Baby Accessories category. CO-ZEE manufactures according to the Business Social Compliance Initiative (BSCI), which is a leading business-driven initiative for companies committed to improving working conditions in factories and farms worldwide.