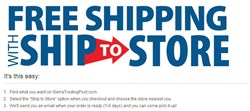 Blending online and traditional channels is the next frontier for retail and the web.
CHEYENNE, Wyo (PRWEB) October 11, 2013
Sierra Trading Post unveiled two new customer service tools recently: Ship to Store and Ship from Store. The retailer also plans to offer a concierge service to provide a uniquely personal shopping experience in spring 2014. These innovative shipping practices seamlessly integrate digital and traditional shopping channels, according to the multi-channel retailer.
Ship to Store allows customers living near a Sierra Trading Post store to place their order online, pick it up in their local store – and skip shipping fees in the process.
"This service has been a hit for customers who love the in-store shopping experience and also want access to the full selection of product they see online," says Andy Newlin, Sierra Trading Post director of web and emerging technology. "And because shipping is free with Ship to Store, they'll get it all at the same price."
A second new service, Ship from Store helps the outdoor retailer meet customer expectations for incredible selection and manage inventory on the most popular product in a highly efficient manner.
Ship from Store gives online shoppers an even greater selection of products by making every piece of Sierra Trading Post product available for purchase online, even if it's currently only in stock in a retail store. Orders are fulfilled directly by store staff and customers receive the same high levels of service without having to pay any additional shipping costs, even if their order contains shipments from multiple locations.
A third new tool, concierge service, will allow customers to shop their local store on the web this spring. Every store's inventory will be visible on sierratradingpost.com with inventory updated in real time, explains Sierra Trading Post Retail Director Brent Layton.
"Customers will be able to browse their local store's specific inventory on the web, check out online and have their order waiting for them at their store later the same day," Layton says. "We'll offer the best of online and brick-and-mortar shopping."
The goal for Sierra Trading Post is to deliver exceptional and personal shopping experiences no matter where their customers are – online, in stores or both.
"With Ship to Store, Ship from Store and the personal shopping experience, we're combining the convenience of online shopping with the immediacy of brick-and-mortar," Layton adds. "Blending online and traditional channels is the next frontier for retail and the web."