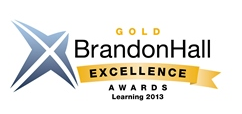 This recognition is a true testament to our mission of creating meaningful, memorable, and motivational learning experiences that produce measurable results and performance change.
Minneapolis, MN (PRWEB) October 14, 2013
Allen Interactions, an innovative custom learning design, development and strategic consulting firm received four awards from the Brandon Hall Group in the Excellence in Learning category.
Allen Interactions, in conjunction with their partnering client organizations, received the following recognition from Brandon Hall:

GOLD – Best Custom Content – Manhattan Associates, ACE Distribution Center Basics
SILVER – Best Results of a Learning Program – AutoNation, SmartChoice™ Sales Menu
BRONZE – Best Use of Games – AT&T, Gamification for Call Center Training
BRONZE – Best Custom Content – CTEL, Wheelchair Securement
Gold – Best Custom Content Winner, Manhattan Associates
Manhattan Associates' Gold, award-winning e-learning course provides the opportunity to take a virtual tour of a typical Distribution Center. In this e-learning course, learners not only "tour" a Distribution Center, they also "try out" the activities performed, and experience first-hand, the challenges to manual processes and benefits that Manhattan's software-enabled optimization provides. Through the tour, learners meet with people who work in the Distribution Center and experience how they are motivated. To accomplish this, a series of mini learning events build around each stop on the tour.
Experiencing a virtual Distribution Center allows learners to employ context to their projects. Recognizing how the role of the Distribution Center plays in to the supply chain provides learners with an understanding of how their work helps the success of the business and the success of Manhattan's clients.
Silver – Best Results of a Learning Program, AutoNation
As America's largest automotive dealer, with over 20,000 Sales Associates, AutoNation found itself facing a common struggle—too much content, too many people to train, too little time for training! AutoNation needed a more effective and efficient way to train advanced sales skills—a method that was scalable, repeatable, and minimized the amount of time spent away from the sales floor.
Recognizing that simply presenting content to the learners in an e-learning course would not lead to behavior change, AutoNation partnered with us to design and develop an hour-long e-learning course as well as Instructor-Led Training to build confidence in Sales Associates, preparing them to present a Sales Menu to customers and to discuss their needs with the manager at the sales desk.
Delivering a new method of training, coupled with the recent investment in a Learning Management System, led some AutoNation leaders to question whether or not these expenses were justified. Therefore, solid metrics on performance improvement were necessary to overcome skepticism. Download the AutoNation case study to read about this sales training success story and measurable results!
"This recognition is a true testament to our mission of creating meaningful, memorable, and motivational learning experiences that produce measurable results and performance change," stated Michael Allen, CEO of Allen Interactions,
The Brandon Hall Excellence in Learning Awards are presented annually by Brandon Hall Research, one of the leading research firms in training and development. Now in its nineteenth year, the Awards program showcases exceptional work in the use of learning technology.
"We are extremely proud to honor our 2013 award-winning organizations for their remarkable achievements," said Mike Cooke, Chief Executive Officer of Brandon Hall Group, Inc. "This elite group of organizations excelled in developing measurable, sustainable programs that produced outstanding business results."
The entries were evaluated by a panel of veteran, independent senior industry experts, Brandon Hall Group Sr. Analysts, and Executive Leadership based upon the following criteria: fit the need, design of the program, functionality, innovation, and overall measureable benefits.
About Allen Interactions
Allen Interactions creates powerful custom learning experiences that help achieve organizational business goals by improving performance one interaction at a time. With 20 years of deep experience and expertise in instructional design, technology, creativity, process, and project management, Allen Interactions consistently achieves positive business impact. In addition to its services offerings Allen Interactions has a new authoring and publishing system, ZebraZapps, which allows developers and non-programmers to create rich interactive media applications, as well as share, publish, and sell objects or entire applications.
More information about Allen Interactions can be found at http://www.alleninteractions.com.
About Brandon Hall Group Inc.
With more than 10,000 clients globally and 20 years of delivering world class research and advisory services, Brandon Hall Group is the most well-known and established research organization in the performance improvement industry. Brandon Hall conducts research that drives performance, and provides strategic insights for executives and practitioners responsible for growth and business results. Brandon Hall Group has an extensive repository of thought leadership research and expertise in Talent Management, Learning and Development, Sales Effectiveness, Marketing Impact, and Executive Management.
For additional information about our Brandon Hall please visit http://www.brandonhall.com.
-###-