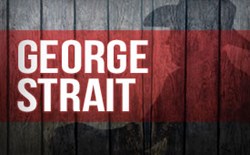 South Windsor, CT (PRWEB) October 11, 2013
George Strait tickets for nine tour dates on the second and final leg of the Cowboy Rides Away Tour go on sale this Friday, Oct 11. Known as the "King of Country," George Strait announced that he would be retiring at the end of tour which kicks-off the last 20 shows on Jan 9 in Bosser City, LA. Special guests on the tour include Jason Aldean, Eric Church, Sheryl Crow, Ronnie Dunn, Vince Gill, Merle Haggard, Miranda Lambert, Little Big Town, Martina McBride, Lee Ann Womack and Chris Young among others. Strait will be performing with his longtime touring partners, the Ace in the Hole Band. Strait is one of the most celebrated artists in the history of Country music and the first performer in the history of Billboard magazine to have at least one single in the top 10 of a Billboard chart for 30 consecutive years. He has more number one songs than any artist in any genre and is a member of the Country Music Hall of Fame. Fans can search for the final George Strait concert tour dates on TicketLiquidator.com.
All trademarks remain property of their respective owners. TicketLiquidator.com does not claim any right or ownership to any of the names contained in this release. These names are strictly used for descriptive purposes and do not imply an endorsement or partnership.
###
Ticket Liquidator® is a leading online ticket marketplace for tickets to popular live entertainment events throughout the United States and around the world. Since 2003, Ticket Liquidator® has provided ticket buyers with access to a selection of premium event seating inventory that now totals more than $1Billion. With customer service available seven days a week, PCI and SSL security certifications and our Worry-Free 125% Guarantee and Safety Net Program, Ticket Liquidator® ensures that ticket purchases can always be made with confidence.