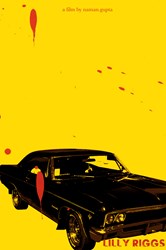 best indie since Reservoir Dogs
New York, New York (PRWEB) October 12, 2013
Fashion Photographer and Director Naman Gupta announced the latest addition to his 'dream team' on board for his first short film project LILLY RIGGS with Cinematographer Daniel Katz of the 2013 Academy Award winning Live Action short "Curfew". Katz is a perfect complement to the team, which already includes Oscar-winning producer Gigi Dement ("God of Love").
Setting out to make a film that would be "Oscar-worthy", Naman pored over 200 script submissions before finding a diamond in the rough. Re-working the story along with Toronto writer Marqus Bobesich, he found a perfect vehicle for the unique vision, and a foray into narrative film from the world of fashion photography.
Lilly Riggs promises to be a highly stylized crime drama that taps into the popularity of "Missed Connections" personals ads found in newspapers and websites such as Craigslist. Fleeting opportunities where strangers see one another in some public space, and then try to reconnect online. Almost like throwing a bottled message into the ocean, on the slim chance that it will reach its intended shores.
In the spirit of films by Guy Ritchie (Snatch, Sherlock Holmes) and Quentin Tarantino, there are two lowlife criminals, BLONDIE and ZERO, scrambling to knock off a hapless woman (LillyRiggs) who has inadvertently pegged them to their latest crime scene with a harmless personals ad in the newspaper.
Taking matters into his own hands, Blondie meets Lilly for an innocent coffee date, which culminates in a seductive dance back at her apartment. Is he losing his nerve? Is he one step closer to going back to jail?
Coupling the frantic energy of Lock, Stock & Two Smoking Barrels with the emotional edge of Closer, Lilly Riggs opens up larger themes of fate, luck, and love in the digital age.
Anyone who ever wanted the inside edge on the next Guy Ritchie or Quentin Tarantino, or ever had aspirations of being a part of an Oscar-caliber short, here is a perfect opportunity to do so. From merchandise, to onscreen credit, to walk-on roles, LILLY RIGGS will seduce them the same way she does film`s hapless lads!
For a chance to become vital part of this exciting new cinematic adventure, visit the fundraising campaign page at: http://www.WhoIsLillyRiggs.com
For more information contact : naman(at)namangupta(dot)com
+1.917.593.8484
we are currently working out shooting dates with Daniel.