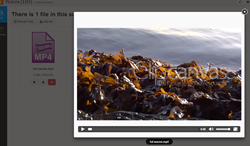 Out-of-date, complicated systems were built on pricing and technologies that are no longer relevant. Submittable does a best job at video and music curation at a fraction of the cost of these older, more expensive systems.
Missoula, Montana (PRWEB) October 15, 2013
Does your organization accept and review feature-length films or music via your website? Do you want to engage with creators, musicians, and filmmakers in ways that weren't previously possible? With Submittable's latest release, Video and Audio Transcoding, any organization can now effortlessly promote calls for and accept video and audio submissions. There's no need for IT or expensive software. Your organization can choose between accepting native files (MP3, MP4, AVI, MPEG, or MOV) or integrating directly with most major content platforms like Vimeo, YouTube, or SoundCloud. You simply create a form, link to it on your website or Facebook page, and instantly accept large film or music files that will be transcoded, and then view-able on Submittable's HTML5 player. Getting starting takes only 10 minutes.
As the leading cloud-based content submission management platform, Submittable is thrilled to be adding Universal Video and Audio Transcoding to its suite of features. This will enable Submittable customers, like Random House, Good Magazine, and Better Housekeeping, with the ability to accept any major media file time (MP3, MP4, AVI, MPEG, or MOV) and then review a web-friendly version of the film or song in the browser or on any mobile device. Prior to this release, video transcoding required expensive and overly-complicated third-party software. The addition of this feature continues Submittable's mission of bringing Enterprise-level tools at affordable pricing to every website, publisher, non-profit, university or school in the world.
As technology lowers the bar for creating video and audio, amazing films and music are being made everywhere. Writers, artists, and creators no longer need to live near centers of capital like New York or Hollywood to do their work. Similarly, great publishers are springing up in Portland and Minneapolis, places formerly not known as publishing centers. Submittable empowers any organization to easily engage and work with content, films or music that is created anywhere in the world.
Also, with SATs becoming a thing of the past, no longer are applications based on scores and testing. With Submittable, schools and universities, can now include video of the student in the application process. This gives school a much better feel for who a student is and how they will perform.
The Submittable platform makes the digital review process simple, secure, and affordable to any size organization.
Some use-cases:

Film Festivals accepting films
Businesses running film or music contests
Universities accepting performing art or writing applications
Newsrooms crowd-sourcing videos and audio stories
Publishers that want to add multi-media to their publication
For a limited time, you can try it for free: http://www.submittable.com/submissions.
With over 7000 clients including top publishers like TechCrunch, Random House, Better Housekeeping, and top universities such as Harvard, Brown, and Yale, Submittable is the premier way to accept and review digital submissions, applications, or content. Submittable has also been a leader in creating new revenue streams for publishers and curators. One average, the platform creates over $250,000 in new revenue each month for its publisher clients. Founded in 2010 by a film maker, musician and a novelist with the simple goal of 'saving publishing, Submittable has garnered press from some of the largest media outlets such as The New York Times, Atlantic Monthly, and Wall Street Journal. Submittable Inc. is backed by YCombinator, The Knight Foundation, SV Angels, and other world-class investors.