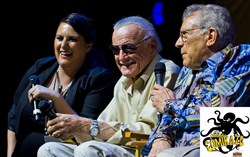 'There is only one who is all powerful, and his greatest weapon is love.' - Stan Lee/Silver Surfer
Hollywood CA (PRWEB) October 15, 2013
Stan Lee is a living legend, his 2nd Annual Comikazee Expo is on Nov. 1-3 in Los Angeles CA. On Sunday November 3rd at 12:30PM Susan Johnston will be moderating the panel: From Comic Book to Indie Film and Everything In Between.
Panel Description: Want to take your project to the next level? Would you like to ask a question from the experts? Join Industry Leaders share experiences on getting comics, ideas, machinima, films to the next level.
Moderator & their credits: Susan Johnston (Multiple award winning producer, Founder/Director of New Media Film Festival)
Panelists & their credits: Oscar Nominee Eric Roberts (Actor The Dark Knight, The Expendables, The Cable Guy) Michael C. Lent (Writer, Marvel Comic Prey: Origin of the Species, Ice Road Trucker, Stephen King's Graphic Novel), David Uslan (launch "Dark Eye" as Pachinko game, TV & Film), Lon Strickland (Machinima)
Stan Lee'S Comikaze expo is LA's Ultimate Comic Con and Pop Culture Experience. Held annually in the heart of the entertainment industry, COMIKAZE assembles the most exciting
and innovative in comics, video games, sci-fi, fantasy, horror and all things pop-culture.
On Sunday November 3, 2013 at Noon EST, Founder/Director Susan Johnston revisits her roots revisits her roots at RI Comic Con where some of the winning New Media Films of previous festivals will screen at no cost to attendees. In addition, there will be an information booth with show specials for the duration of RI Comic Con.
On Monday, November 11 at American Film Market http://americanfilmmarket.com/conferences:
Crowd Sourcing Your Audience
"Who is your audience?" This is one of the first questions financiers and distributors ask producers when considering a new project. Today, producers of modestly budgeted films must not only know who their audience is but they have to know how to help deliver that audience.
Successful producers are using social media to aggregate potential audiences - before and during production. Discover the latest tools for independent filmmakers and new ways to find, build and activate your audience.
Panelists: Susan Johnston, Founder/Director, New Media Film Festival & Kevin Iwashina, Managing Partner, Preferred Content. Moderator Richard Botto, Stage 32
This session immediately follows Keytnote Address: Nicolas Gonda, Co-Founder, Tugg, Inc.; Co-Producer, "The Tree of Life".
On November 17th the 2013 Machinima Expo the one-day event will be held online from 10 a.m. to 2 p.m. PST. There will bet an awards show, interview with Grand Prize winning directors and a short panel discussion. There will also be screenings of the jury films during the week before the Machinima Expo and the Grand Prize winner will screen on the day of the Expo.
Year Round Media Event: http://www.NewMediaFilmFestival.com The Best In New Media....Honoring Stories Worth Telling. Accepts submissions year round. Submit early and save. Judges from Pixar, FOX, The Caucus & other Industry Leaders. $45,000 in awards, 19 categories to choose from. The 5th Annual New Media Film Festival will be June 10 & 11th 2014 in Los Angeles at the State of the Art theatre, The Landmark. http://www.NewMediaFilmFestival.com
SUSAN JOHNSTON – Award Winning Producer, CEO of Select Services Films Inc., Susan Johnston Casting and New Media Film Festival
Festival founder and director Susan Johnston is President of Select Services Films, Inc. an award winning production company which is also certified DBE. As a kid, Susan was on the set of the 1st Great Gatsby where she met Robert Redford while her father was handling the antique cars. From there, she worked on every production she could garnering experience in every department of filmmaking. Her first film a 35mm color film noir short Room 32 which won two awards, received distribution and was requested by Spiderman 3 for their production team.
Susan founded the critically acclaimed New Media Film Festival ® in 2009 to honor stories worth telling in the ever changing landscape of media, New Media. Legendary judges cull over the content for the annual festival in Los Angeles that offers screening, competition ($45k in awards) and distribution opportunities. Currently there are over 600 titles in their library.
Johnston has a background in the traditional film and TV industry, but has also become known in recent years as a pioneering new media producer including Stan Lee's Comikaze Expo panel for Independent Creators, Co-Producing Feature Film Dreams Awake & currently producing the Marvel Comic feature Prey: Origin of the Species. While the Industry was changing from standard def to HD Johnston produced the 1st series for mobile, Mini-Bikers the 1st live stream talk show on HD with a Panasonic Varicam and tested the Panasonic DVX100 which led to some changes on the DVX100A and was on a committee to develop the SAG Internet contract with Pierre Debs of SAG. Currently a Professor Emeritus in New Media, on New Media steering committee for The Caucus, an advisory board member for SET Awards (Entertainment Industry Council), Machinma Expo judge & New Media Institute judge.
In 2012 LinkedIn announced Susan Johnston was one of the top 10% profiles looked at out of 20MM. With over 80,000 on the monthly newsletter elist and over 2 million across social media, Susan Johnston has been touted as a Social Media expert and lent her expertise to Los Angeles Social Media Week, IFFS, Jackson Hole Science Conference, Moviola, A Brasov Romania conference & is proud to be able to share with the American Film Market new advancements in the social media/crowd funding space.
Prior to relocating to Los Angeles in 2000, Susan Johnston, a New England native, worked with the Providence & Rhode Island Film Commissions over 5 years to build the infrastructure used by the Farrelly brothers, as well as by director Michael Corrente, NBC's hit TV series Providence, and the New England Screenwriters Conference. She developed Context Media Studios International production capabilities as well as garnered funds before Senate Committee hearings and helped facilitate the 25% tax incentive for investors of films in Rhode Island.
More info can be found at:
IMDB: http://www.imdb.com/name/nm0426856/?ref_=fn_al_nm_2
WEBSITES: http://www.NewMediaFilmFestival.com http://www.SelectServicesFims.com http://www.SusanJohnstonCasting.com