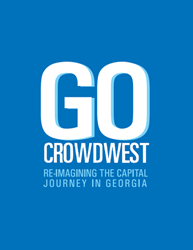 "The new ruling passed in Georgia, called IGE (Invest Georgia Exemption), now allows 87 percent of the state's population, who are non-accredited investors, to have an opportunity to invest in small businesses in their communities."
Atlanta, GA (PRWEB) October 11, 2013
It is not an overstatement to say that Saturday's CrowdWest event at the University of West Georgia coliseum is getting a lot of national attention from members of the business community.
Crowdfunding is the new angel in the investment and funding world.
CrowdWest is a one-day conference, from 9 a.m. to 8 p.m. that is bringing together a number of experts in the new field on finance. Cost is $100 per person, with a special student fee of $25. Registration is available online at http://www.crowdwest.org and onsite on the day of the event.
Carrollton native Gene Wright will be bringing more than fifty investors and crowdfunding experts to Carrollton to share their knowledge and expertise on alternative funding solutions to help get Georgia businesses better access to capital in today's economy and beyond. Wright, founder of the Crowdfunding Association and Managing Partner of Northstar Consulting is known throughout the Georgia business community as a top advisor to entrepreneurs, business owners, CEOs and investors.
In collaboration with the Georgia Crowdfunding Association, Richards College of Business at the University of West Georgia and Carroll Tomorrow, CrowdWest will provide Georgia based businesses, students, entrepreneurs, investors, faith-based organizations and non-profits an event filled day to learn how to "grow and prosper" utilizing non-traditional funding options to "democratize" capital for their business, organization or cause.
Georgia is one of only two states in the US that currently allow equity crowdfunding. Businesses registered and located in Georgia can raise up to $1 million annually from Georgia residents in intrastate transactions.
Co-sponsors and Partners supporting the event include;

The Burson Center (http://www.carrolltomorrow.com/bursoncenter/), located in Carrollton, Georgia is a business resource center and the region's renowned business incubator having just completed its 7th year anniversary. Its goal is to build regional knowledge ecosystems alongside Carroll Tomorrow – a unique countywide public-private economic development organization that prepares for and promotes quality growth in Carroll County.
The University of West Georgia-Richards College of Business. The University of West Georgia's Richards College of Business is located in Carrollton, Georgia and houses several important university programs including the Small Business Development Center, the Center for Economic Research, and the Center for Economic Education. It is dedicated to preparing leaders who are able to make sound business decisions, participate actively in global economies, respond to technological changes, communicate effectively, and affirm a core array of values and ethical practices. The university engages nearly 12,000 students at its main campus, UWG Newnan, and online.
The Georgia Crowdfunding Association whose mission is to advocate, educate and develop an ecosystem of businesses, investors, local communities, professional service providers and students to create a new framework for social investing in Georgia.
Northstar Consulting Services, LLC , an Atlanta business consultancy focused helping high growth clients develop business strategy and achieve operational and organizational excellence to identify and achieve capital strategies to execute growth plans.
Technology Association of Georgia (TAG) has emerged as a world-class membership organization and an engine for economic development for the state of Georgia. TAG's mission is to educate, promote, influence and unite Georgia's technology community to foster an innovative and connected marketplace that stimulates and enhances Georgia's tech-based economy.
TriNet Your Strategic HR Partner - With 8,000+ clients nationwide and over $1 billion in health premiums managed, TriNet provides cloud-based HR solutions that allow growing companies to do what they do best. Small to mid-sized businesses in a variety of industries partner with TriNet to manage human resources, employee benefits, payroll, risk mitigation, workers' compensation, strategic human capital planning and more. -See more at http://www.trinet.com
Featured speakers at Saturday's event include Lara O'Connor Hodgson, who has extensive brand development experience; Stacey Abrams, the 2012 recipient of the John F. Kennedy New Frontier Award, given to public servants for their civic mindedness; Rodney Sampson, a social innovator and serial entrepreneur; and Vince Russo, an attorney who formerly served as general counsel for the Georgia Secretary of State.
Event details are available at http://www.crowdwest.org.
What: CrowdWest Conference
When: Saturday, October 12th, 2013 (9:00 AM-8:00PM)
Where: The Coliseum at the University of West Georgia
Why: To educate and enable small business owners, students, entrepreneurs, professional service providers, non-profits, faith-based organizations, colleges/universities, community organizations and investors to use non-traditional funding options.
Engagement: We welcome your participation in this inaugural conference in Carrollton, GA. Register at http://www.crowdwest.org.
Read the original Times-Georgian article here.