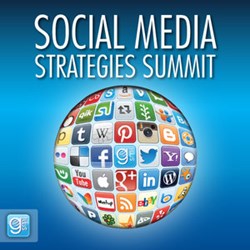 SMSS Vegas has confirmed several thought leaders within the social media industry, including FOX Sports Digital, ARIA Resort & Casino and Orabrush.
Las Vegas, NV (PRWEB) October 15, 2013
GSMI's Social Media Strategies Summit, Vegas, is a three day comprehensive social media marketing event that brings together experts in the field to share best practices on how social media can be integrated into an overall marketing plan to reach business goals. SMSS Vegas has confirmed several thought leaders within the social media industry, including FOX Sports Digital, ARIA Resort & Casino and Orabrush.
Keith Dobkowski, Senior Director, Audience Development with FOX Sports Digital, brings over ten years of digital marketing experience in the sports industry, with a successful history of delivering audiences to digital properties through a combination of search optimization, social optimization, paid advertising, cross-platform promotion and digital best practices. Keith will be presenting on "Understand the Trio: Content Marketing, Social Media & SEO," where he will give insights on how social can impact search. Keith will address challenges such as how to put the correct actionable and shareable content in front of users and how to turn users into influencers. Read the full details of Keith's session here.
Derek Schoen, Interactive Marketing Manager with ARIA Resort & Casino, oversees the social media, mobile applications and text messaging programs for ARIA Resort & Casino, Vdara Hotel & Spa, Crystals Retail & Entertainment District and the overall CityCenter brand. In addition, he also leads the primary strategy for web, on-property and emerging technologies. Derek will be presenting on "Extending Your Marketing Message into the Digital World," where he will explore two case studies: one on how he integrated a social media program into an existing campaign and another on building a marketing campaign when social media is included from the start. Read full details of Derek's session here.
Jeff Davis, President & CEO of Orabrush, brings 23 successful years of experience in sales, marketing and general management at Procter & Gamble both in the U.S.A and abroad. Jeff will be presenting on "Designing an Online Presence that Drives Conversions," where he will share a case study of YouTube success, as well as tips on how to create meaningful content that resonates with consumers and ultimately drives ROI. He will also explore how to use video to build a brand, drive sales conversion and engage audiences long-term.
For the full agenda and speaker line-up at SMSS Vegas, please visit the website:
http://socialmediastrategiessummit.com/las-vegas-2014/
To assure attendees get the full benefit of an intimate summit, we only offer a limited number of seats. Take advantage of our early bird registration deals to secure your seat. Group discounts are also available.
About GSMI:
GSMI is a leader in the industry of executive education, creating conferences, summits, workshops and training sessions that combine rich learning environments with the opportunity to network with today's most relevant thought leaders, speakers and practitioners. GSMI's annual events have reached 70% of the Fortune 500 companies, in over 30 countries, covering topics that today's leaders find most challenging and inspiring.
MEDIA CONTACT:
Tom Dibble
Tom.dibble(at)gsmiweb(dot)com
619.810.1860