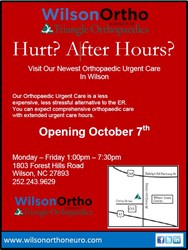 "We look forward to the opening of our Urgent Care facility as it will allow us to provide more timely care of patients with musculoskeletal injuries and result in easier access to comprehensive orthopaedic care than has been possible in the past."
Wilson, NC (PRWEB) October 15, 2013
Wilson Orthopaedic Surgery & Neurology Center, a division of Triangle Orthopaedic Associates, has opened the area's first Orthopaedic Urgent Care. The new Orthopaedic Urgent Care Center is a less expensive, less stressful alternative to the ER, offering comprehensive orthopaedic care and extended urgent care hours. Hours of operation are Monday through Friday from 1:00 p.m. to 7:30 p.m.
Contrary to emergency room visits, the highest copay tier is not imposed at the Wilson Orthopaedic Urgent Care Center. If a patient has a copay, he or she will simply pay the specialist copay. The practice is fully staffed with trained orthopaedic professionals who provide a complete array of treatments for conditions such as:

musculoskeletal pain or injuries
postsurgical pain or complications
fracture reductions
wounds and lacerations
Furthermore, providers may perform minor surgeries related to broken bones, dislocated shoulders and elbows, removal of foreign bodies, and tendon repairs, among others.
"At Wilson Orthopaedics, we are very excited about our new relationship with Triangle Orthopaedic Associates. We look forward to the opening of our Urgent Care facility as it will allow us to provide more timely care of patients with musculoskeletal injuries and result in easier access to comprehensive orthopaedic care than has been possible in the past," says Adam Thorp, M.D., President of Wilson Orthopaedic Surgery & Neurology Center, P.A.
About Triangle Orthopaedic Associates, P.A.:
Since 1952, Triangle Orthopaedics has been treating an array of conditions from sports related injuries to joint replacements. Our rehabilitation centers afford thorough guidance to patients during the recovery process. Today, we have 16 locations across the greater Triangle region, including six Urgent Care clinics located in Apex, Chapel Hill, Durham, Raleigh, Wake Forest, and Wilson. With over 50 physicians, six MRI locations and numerous physical therapy facilities, you can count on us. Also, our Orthopaedic, Rehab Medicine, Rheumatology and Surgical Specialists Departments have got you covered! For more information on Triangle Orthopaedic Associates, P.A., please visit: http://www.triangleortho.com. For more information on Wilson Orthopaedic Surgery & Neurology Center, visit http://www.wilsonorthoneuro.com.