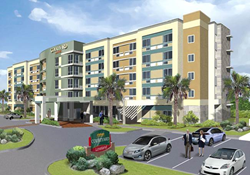 Get ready for a new Loveland hotel experience.
Loveland, CO (PRWEB) October 17, 2013
Stonebridge Companies and McWhinney have reached an agreement to develop a fourth hospitality project at Centerra. The new 104-room Courtyard by Marriott will join the existing three hotels at Centerra, the Residence Inn, Fairfield Inn & Suites and Hampton Inn, in Loveland, Colo. Situated in the heart of Northern Colorado's leading master-planned community, this new contemporary hotel will be located on the east side of Centerra at the northeast corner of I-25 and US Highway 34. Planned to open in early 2015, this latest Marriott hotel will have direct access to the much anticipated Bass Pro Shops and positioned amongst six other leading in-line retail and restaurant pads. The hotel will be within walking distance to Chapungu Sculpture Park at Centerra, a 26-acre public sculpture park featuring 82 African stone sculptures and a 1.5 mile walking trail, and The Promenade Shops at Centerra, northern Colorado's first lifestyle center with over seventy specialty shops and restaurants.
"We are pleased to partner with Stonebridge Companies and welcome a third Marriott property to Centerra," said Jay Hardy, McWhinney Vice President, General Manager – Centerra. "Loveland serves as an ideal travel destination and our hotel partners continue to play a vital role in supporting the growth and exposure of our local community through a city-wide lodging and regional marketing program."
Centerra, a 3,000 acre master-planned community, serves as a major transportation corridor welcoming more than 70,000 vehicles per day passing through Loveland and offers direct connections to Fort Collins, Johnstown, Windsor, Estes Park and Greeley via Interstate 25 and Highway 34.
This current generation of Courtyard hotel will feature spacious rooms, modern finishes, which highlight comfort, functionality and sophisticated décor. Amenities planned include free high-speed Internet access, flat-screen HD televisions, mini-refrigerators in guest rooms, hairdryers, coffeemaker with tea service, alarm clock, plush seating, iron and ironing board and large work areas with a desk, lighting, outlets and an ergonomic chair.
"Our twenty-year relationship with trusted developer McWhinney coupled with a growing destination region, makes it the perfect opportunity for us to expand the Marriott brand within the existing Centerra development as we develop our next Colorado property in Loveland," commented Navin Dimond, Stonebridge Companies President and Chief Executive Officer.
###
About Stonebridge Companies
Founded in 1991 by Navin C. Dimond, Stonebridge Companies is a privately owned, innovative hotel owner, operator and developer headquartered near Denver, Colorado. The company's current portfolio entails 45 hotels with over 7,000 rooms nationwide. This diverse listing of properties includes select-service, extended-stay, mid-scale and full-service hotels in markets throughout the U.S. For detailed information, please visit http://www.SBCOS.com.
About McWhinney:
Headquartered in Loveland with offices in Denver, McWhinney is a team of talented professionals who are passionate about creating great places for people and providing fabled experiences to our customers. We develop innovative and sustainable master‐planned communities and award‐winning vertical commercial and mixed‐use projects. Since 1991, McWhinney has planned and developed more than 6,000 acres in several master‐planned communities and over 4.5 million square feet of vertical commercial and mixed‐use properties throughout the Rocky Mountain region and on the West Coast. In 2008, McWhinney moved up from No. 13 to No. 11 on the list of the 50 Best Small and Medium‐Sized Companies to Work For in America. In 2009, the company was named Colorado's "Developer of the Year" by the National Association of Industrial and Office Properties (NAIOP) for McWhinney's significant real estate and development contributions in the state. For more information, please visit http://www.mcwhinney.com.
About Centerra:
Centerra, an award‐winning 3,000‐acre master‐planned community located in Loveland, Colorado, is a McWhinney development. As a community designed to enhance all aspects of life, Centerra integrates neighborhoods with recreation, art, shopping and dining, business opportunities, and medical services. Centerra offers Northern Colorado's first lifestyle center, The Promenade Shops at Centerra; the Medical Center of The Rockies, a state‐of‐the‐art 136 bed LEED gold‐certified regional hospital; The Marketplace at Centerra, one of Northern Colorado's largest contiguous power shopping centers; and Miramont Lifestyle Fitness. Centerra, which was recognized by the National Association of Industrial & Office Properties (NAIOP) as the Colorado Chapter's 2003 Development of the Year, embodies the company's purpose of creating great places for people. For additional information, visit http://www.centerra.com.