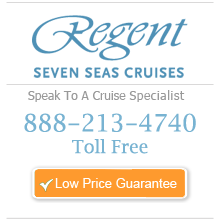 Tucson, Arizona (PRWEB) October 11, 2013
As a preferred partner of Regent Seven Seas, Regent Cruises Sale, the online cruise sale division of Bon Voyage Travel, is pleased to announce that Regent's 2014-2015 Winter Collection is now open for booking starting October 9, 2013. These sailings run from November 2014 through May 2015, and reach every corner of the globe. Destinations for the Winter Collection include: UAE, South Africa, Asia, the Mediterranean, French Polynesia, New Zealand, Australia, South America, the Eastern and Western Caribbean, the Panama Canal and Alaska. Right now guests can book and enjoy 2-for-1 early booking fares.
What's new in 2014-2015 itineraries? Regent will visit twenty-three Winter Collection ports including Ishigaki in Japan, Kauai and Maui in Hawaii, Natal in Brazil and more! There will be 48 new itineraries, 19 Extended Voyages and over two-hundred destinations in seventy-five countries. The Seven Seas Mariner will explore the South Pacific for the first time in five years, and the Seven Seas Navigator will offer more choice in the Caribbean than ever before with special features like ecotourism adventures in Belize City and overnights in Hamilton. The ship will also be returning to Alaska in May 2015 with two seven voyages, one nine-night voyage and one 14-night itinerary.
On sailings in Asia and Africa guests can book free land programs for concierge suites and higher to discover exotic destinations in fascinating regions of the world. These exciting three-night Regent Seven Seas Winter Collection land programs are also available for purchase by Deluxe Suite guests for only $499 per person:

From Singapore, the Angko Wat Experience Land Program allows guests to see the grand architecture of the Khmer Empire and the renowned Bayon Temple.
From Beijing, the Beijing and The Great Wall Experience takes guests to Tiananmen Square to visit the Hall of Prayer for Good Harvests. Next travel beyond Beijing to the Great Wall of China, constructed over 2,000 years ago.
From Cape Town or Johannesburg, the South Africa Safari Land Program immerses guests in the South African natural world to see big game in five-star hospitality.
Regent Seven Seas Cruises has also announced the expansion of its all-inclusive product by offering Wi-Fi at no charge across its fleet to certain categories of passengers. Beginning with the Winter 2014-2015 sailings, concierge-level and higher guests will receive up to 500 minutes of free Wi-Fi.
Additional amenities on select extended voyages include complimentary Business Class Air, door-to-door luggage delivery, a comprehensive visa package, phone time, unlimited internet access, and more. The 19 Extended Voyages will range from 26 to 85 nights. Guest choose to embark on these 26 to 85-night extended voyages in order to spend more time discovering new cultures and exotic destinations.
RegentCruisesSale.com's online cruise consultants are specifically trained to support Regent cruises and have received extra training from key Regent employees. They assist with all aspects of a client's travels, and are able to get clients additional discounts and amenities. They can help clients learn about these new Regent Seven Seas winter sailings and itineraries beginning October 9, 2013. Visit RegentCruisesSale.com to see all the 2014 and 2015 Regent Seven Seas Winter Collection itineraries.
About the Author: Regent Cruise Sale is one of the online Cruise Sale divisions of Bon Voyage Travel, a travel agency founded in 1976 in Tucson, Arizona. With over 35 years leading the travel industry, Regent Cruise Sale offers additional amenities and superior service to those seeking the best cruise experience. Since Regent Cruise Sale launched in September of 2010, Cruise Sale has expanded to operate eight dedicated online cruise sale websites, which successfully serve thousands planning their cruise vacation at the lowest price.