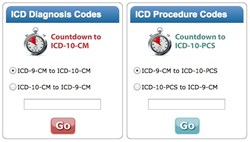 STAT!Ref's ICD-9 and ICD-10 cross-searchable resources are extremely valuable to the coding professionals at our hospital. And, now, the ICD Conversion Tools save them a lot of time and hassle since they're online and readily available.
Jackson, WY (PRWEB) October 14, 2013
The STAT!Ref resources for coding include cross-searchable ICD-9 and ICD-10 references, as well as a comprehensive ICD-10 transition worktext for students and coding professionals. Also, STAT!Ref has released brand-new ICD Conversion Tools, which are panels on a STAT!Ref subscription homepage that provide cross-reference between ICD-9 and ICD-10 procedure and clinical modification codes with the click of a button.
STAT!Ref ICD Coding Resources
Now, have ICD-9 and ICD-10 resources online for quick, cross-searchable coding reference. The following coding resources below are available in the STAT!Ref online platform, and can be purchased ideally in combination with special package pricing or a la carte based on an institution's specific needs.
ICD-10-PCS: Procedure Coding System
ICD-10-CM: Clinical Modifications
Understanding ICD-10-CM and ICD-10-PCS: A Worktext
ICD-9-CM-Vols. 1, 2 & 3
New ICD Conversion Tools
And now, STAT!Ref is the only place to find both ICD-CM and ICD-PCS Conversion Tools. ICD-9 is being expanded from 17,000 to approximately 141,000 ICD-10 codes, but STAT!Ref shortens the process of checking codes for accuracy with these new convenient cross-referencing tools.
Simple and straightforward new panels on the STAT!Ref interface serve as an ICD translator tools, allowing users to enter in a ICD-9-CM or ICD-9-PCS code and get a pop-up panel containing the ICD-10-CM or ICD-10-PCS equivalent. Or simply get the reverse translation at the click of a button. These extremely valuable panels are available free to those that purchase both ICD-10-CM and ICD-10-PCS.
For questions about the STAT!Ref coding resources and tools, contact a STAT!Ref team member at 800-901-5494.
STAT!Ref, the premier healthcare e-resource, enables users to intuitively cross-search full-text titles, journals and evidence-based point-of-care authoritative resources. With growing resources within a variety of healthcare disciplines, STAT!Ref provides the latest healthcare information in a customizable and convenient format. STAT!Ref is accessible by desktop, laptop and mobile devices.
STAT!Ref: The Premier Healthcare e-source
http://www.statref.com