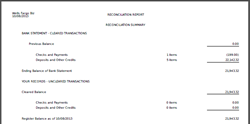 It is all about making the day to day chores of property managers easier
Grants Pass, OR (PRWEB) October 15, 2013
Rentec Direct maker of Leading property management software and tenant screening solutions, announces that it has added automatic bank reconciliation reports to its incredible list of reports and features!
Now, once finished reconciling bank account, a new option to download a bank reconciliation report will be presented. This new report follows standard generally accepted principals that provides a printable PDF summary of all reconciled transactions, followed by a summary of uncleared transactions.
Subsequent pages provide the full detail of the reconciliation including each line item reconciled as well as all reconciled items.
The report consists of:
Reconciliation Summary: A summary of reconciled and uncleared transactions
Cleared Transaction Detail: Line item detail of every cleared credit and debit
Uncleared Transaction Detail (up to statement date): A list of all uncleared transactions dates on or prior to the reconciliation date.
Uncleared Transaction Detail (after statement date): A list of all uncleared transactions dates after the reconciliation date.
Rentec also automatically archives every bank reconciliation report, so you can retrieve them if ever needed in the future. To retrieve any past reconciliation reports, just right click on the account and choose Notes/History. Click on any of the reconciliation items to download that specific report dated as if it was the day you entered it.
"It is all about making the day to day chores of property managers easier," said Nathan Miller, President of Rentec Direct.
To learn more about Rentec Direct or to obtain a 30-day full featured free trial of the software, visit
http://www.rentecdirect.com/
About Rentec Direct
Rentec Direct provides cloud based rental software solutions for property managers and landlords. Other popular solutions offered by Rentec Direct include tenant ACH payment processing and tenant screening, and online syndication of vacancies to more than 20 popular websites.